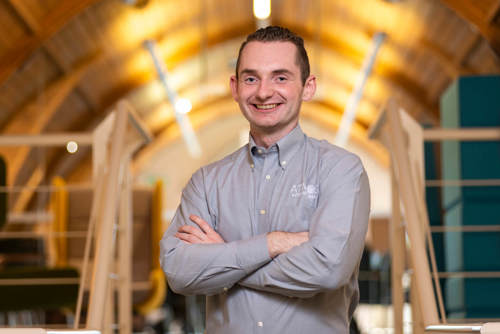 Harry Smith joined Atmos International (Atmos) in a rather unconventional way. After five years working with the majority of teams, he now leads the development of Atmos' TheftNet service. Discover how joined Atmos and what keeps him motivated.
How did you arrive at Atmos International (Atmos)?
Like many graduates before me, I did not have a defined career path. My goal was to seize any opportunities that presented themselves and retail sales were my first step to a successful career.
My ability to engage with customers, listen to their aspirations and expectations and offer unbiased professional guidance, helped me to become the best sales performer in my first year. It was these attributes that Andy Hoffman (Research & Development Director of Atmos International) immediately recognized when he visited Curry's PC World to purchase new laptops in 2014.
During our first initial conversation, Andy saw some raw potential in me. Telephone numbers were exchanged and a visit to Atmos's head office was arranged. Four weeks later I became a full-time employee and the rest is history!
How would you describe your job?
When I started, Andy said my job was to do nothing! Interesting job description I thought!
Since my first day at Atmos, I have had the opportunity to learn and experience all aspects of a successful company. Currently, I have a hybrid role, it mixes pretty much a bit of everything from every department including project management, research, training, sales, logistics and much more.
What do you think your biggest challenges and achievements have been over the last five years?
Teaching leak detection to new engineers with excellent academic degrees. Preparation, onsite knowledge and experience helps with the training process
Building strong customer relationships and achieving a £1m sale in my first year.
Becoming a successful product champion
What is involved in a typical day?
Like the majority of the staff at Atmos, my day is very varied. As well as checking emails - customer care is a top priority within the company, I could be working with our engineers to analyze a theft report to help our customers mitigate the risk of a leak. In my role as Product Champion for Atmos TheftNet, I also keep an eye on sales proposals and work closely with colleagues in projects and development to support any arising issues. My research work keeps me busy too!
What three words describe your role?
Sales – building opportunities for Atmos and our product offering
Research – collaborating with colleagues on new hardware and software to meet clients' needs
Projects – seeing a project take life from the initial sales agreement to implementation


If you could switch jobs with somebody who would it be?
I have always been fascinated with the military, especially the Royal Air Force. To be a Royal Air Force reserve has always been an aspiration of mine.
What's on your wish list for the next five years?
Personally, I would like to buy a property and become a homeowner. Professionally I would like to progress further through the Atmos organization to be considered for promotion and be given the opportunity to develop more challenging territories.
What do you think your professional challenges are?
To increase sales revenue year on year
To assist in the development of new products, which will increase the efficiency of our leak detection products for our customers and profitability for Atmos
If you could choose a mentor who would it be?
My parents who are, and have been, totally supportive throughout my life and career are my obvious mentors. I had an excellent manager at Curry's PC World (ironically he was called Andy!) He was extremely supportive, offered advice willingly and increased my confidence as I progressed within the organization. Andy Hoffman is definitely a mentor for me at Atmos. He took me under his wing and I have learned so much from his vast experience and knowledge. Dave Dingley has been inspirational in terms of sales and learning about customers' aspirations and expectations. Finally, Glen Tyson's help in navigating projects has been really helpful. Together, they have all mentored and coached me on each part of my Atmos journey.
What is your favorite website blog?
I love sports so always check the headlines on BBC Sport. I have a passion for football and basketball and I play for a local team 'Whalley Range Rams'. We are not the best but we all thoroughly enjoy the camaraderie and the occasional victory. I also find history fascinating.
What is your favorite place to visit?
We visited Iceland with Manchester University and experienced the natural beauty that the normal tourist will never be privileged to see. Costa Rica is a very close second. Culturally Israel and Iran were fascinating.