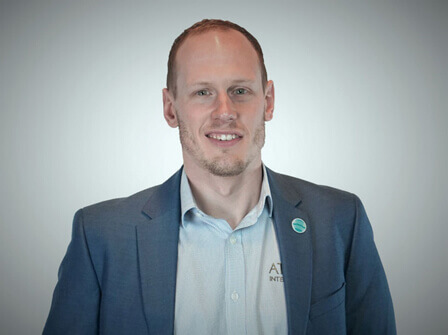 Six years ago, engineer Dean Golba accepted a challenge; to build Atmos International (Atmos') Aviation business on a global scale. With the development of the Atmos Portable Tightness Monitor (APTM) offering a competitive advantage, Dean has been developing Atmos International's (Atmos) profile across the sector. Those years of hard work, pilots and trials are now bearing fruit as Hartsfield-Jackson Atlanta International Airport - the world's busiest, signed a contract for the supply of an APTM system.
How would you describe your role?
I was in the fortunate position of being given the opportunity to develop our aviation offerings. I was given a lot of freedom and versatility to go out and open that market further.
We had an excellent reputation for our software, our project delivery and know-how, but the hardware side was something new for Atmos and it was good to develop my knowledge of that side of the business, especially in certifications.
With the hardware comes engineers, field engineers and management of the team and projects. It means my role is now quite diverse. A mix of project management, product development, business development – it's everything all-encompassing. After nearly ten years with Atmos, there are still new challenges!
What do you think your biggest challenge has been over the last 10 years?
At Atmos, it's probably been the work I've done with the aviation side of the business. And specifically, the work I've done with the APTM system. The reason being is that as a company historically we've plenty of experience in software development, but the hardware element is something that we've been building and being involved at this level has been exciting. It's taking something from concept through to certification, and then it becoming an actual product being sold in the market.
Then selling the first one to a customer was an incredible achievement.
What's a typical day like for you?
It's always varied. Quite often I can be dealing with customer inquiries, which we have a lot of currently. I will often liaise with international business development colleagues in Asia and Latin America because they have a close understanding of their markets and are actively involved in our aviation business growth too.
We'll work on developing solutions with customers. In the aviation industry, the approach is often bespoke. We're often exploring variations of the product as well, looking at complementary services such as Atmos Aviation Care, for example.
I think we're a forward-looking team and we're always developing something to improve the product and service, be that software and code updates or new products to be added to the mix. I guess we're problem solvers in every sense of the process.
Quite often we get customers asking us about challenges. As part of our approach, we listen to our customers, especially when we're conducting trials. We'll ask them about what keeps them awake at night, what their pain points are. We'll then listen and bring those back to the table here. It's not only me, but the whole team is also gathering insights from these conversations. We'll then sit down as a team and see if we can do something for them.
We recognize that we're a new kid on the block, even after 15 years of supplying tightness monitoring systems. The aviation industry is very regimented and can be quite fixed for a reason. There's lots of regulation and legislation around it. So usually the industry changes only when new policies come into play.
The way we're coming at it is to bring our collective experiences to this sector. That's the exciting thing for me.
Can you give us three words that describe your role?
Varied is the first word that comes to mind
Challenging as it isn't always straightforward
Rewarding
If you could switch jobs with someone who would it be?
It would be Daniel Short, Atmos' Senior VP Commercial and my line manager! I would love to see the problems I present to him. I realized that I work for Daniel and I want to make life easy for him. I try not to give him difficult proposals, essentially I don't approach him with a problem but a solution.
What's on your wish list for the next five years?
We're making headway in the industry. Now customers are coming to us as a point of contact. Prior to what I was doing in the industry, there wasn't a lot of competition for hydrant leak detection systems. There is now and we're driving forward innovation. The technology and the way leaks were detected hadn't changed prior to our push, now that's changing. In the next five years, my ambition is to have a full leak location system for aviation and being the thought leader for our aviation fuel industry.
What do you think your professional challenges are?
The biggest challenge is about lack of education. Many don't want leak detection as the current regulation is advisory. So, a great deal of my work is about educating customers about the risks of leaks and how to mitigate those risks.
Who is your mentor and why?
It's my Dad. He was an industry professional working in explosives manufacturing. He was a commercial manager. I speak to him daily and if I face any challenges, any issues – he's my first point of contact.
He's not only a mentor but a role model as well. He offers another way of looking at things, a different perspective. And because he understands me so well, he can give me a good opinion on things. If I could employ my Dad I would!
We worked well together previously when we had a business together in the motorsport industry.
If you could go back and speak with the 16-year-old you, what would you tell yourself?
I think when you're that age its all about needing to see the bigger picture and having perspective. You don't necessarily do that at that age, to be honest. I'd like to tell myself 'Look what you could achieve'.
Would I do anything differently? Probably not, but maybe I'd be a lot happier as a child, knowing that it really was worth the effort and heartache. I wasn't focused enough at school, my parents really had to push me to do things. It was only at the end of University I realized that there was a bigger picture.
What do you like most about your role now?
I love the freedom to make decisions, to innovate and get things done for the customer. Daniel has given me a lot of responsibility to get the job done, so I'm always aware that it's about the outcomes for the customers.
The versatility is also key. I've got the opportunity to see the world. Who doesn't like traveling and seeing new cultures, meeting new people? I've not always been adventurous with my foods, but it's been good to embrace this with my role.
What advice would you give to new recruits at Atmos?
The opportunities in this company are fantastic. It's a great company to work for and if you apply yourself in the early days, you really do have a world of opportunity at your feet.