In this 'A conversation with' we catch up with Irena Hostakova. Irena relocated back to her home country of the Czech Republic as the pandemic widened across Europe. She has recently joined a new team, established to enhance the development of Atmos International's (Atmos) simulation products.
Having studied at the University of Aberdeen, Irena settled in Cheshire after her degree and joined Atmos in 2014.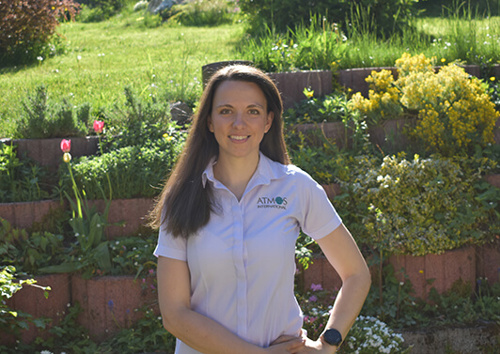 What was your journey to Atmos?
While studying the equivalent of A-Levels in the Czech Republic and wondering what I was going to do next, a delegation of tutors from Fraserburgh (Scotland) came to my school, looking to enroll people at their college. I realized I didn't know what I wanted to do and thought that I'd try it for a year and if I don't like it, I'll have hopefully improved my English. There were a couple of HNC and HND courses that were suitable so I packed my bags and headed to Scotland.
I initially enrolled in a business course but I soon realized it wasn't for me and moved onto a sports coaching course. I was already involved in sports back in the Czech Republic. Some aspects of the course were quite difficult as I was going into schools and working with teenagers. They didn't hold back and it was stressful at times, especially with my foreign accent and the North Eastern Scottish one too. I started to think about what I liked and missed, I was good at mathematics and physics at school, so decided to apply for a degree in Physics and was accepted to the University of Aberdeen. The Scottish people are wonderful – they can be direct at times but I have fond memories of my time there.
After graduating, I moved down to Cheshire as my partner was from there and already had a job. I looked around for jobs and Atmos was advertising for project engineers. The role sounded interesting and I enjoyed the interview process too.
Initially, I started as a project engineer and worked on projects using Atmos Pipe. Once I had enough experience, I was then able to work on Atmos Wave projects and was fortunate enough to be involved in our Atmos Tightness Monitoring systems on airport hydrants. I had my first SIM project in 2018 and eventually started to work solely on Atmos SIM projects. The latest development for me is the move to the new SIM team, which I'm very excited about!
What is your biggest achievement to date – personal or professional?
I don't think in that way. Of course, there are milestones and times when you look back and appreciate how something went. There are some projects which I am proud of as well.
I also think, if you embrace the challenge of something new and go out of your comfort zone, you will learn from it. There are things in life that you don't like but you have to do. Life is a journey, isn't it?
I'm not one to sit waiting for work to be given and I remember when I was close to finishing some projects, I asked what I could do next. One of the directors gave me an opportunity to go to Malaysia for a couple of weeks to work on a hydrant project. It turned out to be an amazing experience both in terms of the site visits and the learning. My colleague was kind and supportive as I'd not had much experience in hydrant systems and the project was close to being commissioned. Because we were working at an airport, we worked nights when it was quieter, so we had the days to ourselves which worked well with the jet lag.
What does a typical day look like for you and what are you currently working on?
Well, there's no more commute at the moment. Making the move back home to the Czech Republic was relatively easy as we were all working at home anyway. I think there's a more relaxed feel in the sense that we're not rushing around or having to sit in traffic for hours.
I guess my day is like most of my colleagues. I usually spend some time checking my to-do lists, project charts and my emails. We have regular project updates, so I will check what is on the calendar and do any final preparations that are required ahead of the meeting. I'm quite motivated so like to keep on top of everything. This means that I spend a lot of time tuning systems and completing various aspects of project work.
Now that I have moved home, it's nice to be back in a smaller town where I can go for nice walks. I was very young when I left and apart from the holidays, I've not spent much time here. Now I am rediscovering places and exploring new ones.
I do miss some elements of the office but as some of our team are in other countries, the setup works well.
What three words would you use to describe your role?
Challenging
Persevering
Rewarding
If you could switch jobs with someone, who would it be?
I'm content at the moment and I've recently moved on to the new team with new projects and ambitions for the product, so I don't think I have any need to change.
What is on your wish list for your next five years here?
Workwise I think it is developing with the new team and expanding our projects. I've enjoyed the work and I've got good relationships with our customers. I do enjoy that side of the job because a lot of our customers are very experienced professionals and there is so much you can learn from them. I guess in five years, With our dedicated Atmos SIM team, we'll use our pooled experience and be even more involved in the product development side of things too.
On the personal side, I would like to get involved with competitive sports again. I competed a lot when I was younger and I'd like to give something back through the coaching side. Hopefully, when things open up here, I'll be able to do something.
What are your biggest professional challenges?
Moving to a new product like Atmos SIM was a challenge because I had to change my mindset. When I got my first Atmos SIM project, I was already an experienced engineer with Atmos Pipe and Atmos Wave knowledge. Of course, no one expected me to know it all but I think being at a senior level before, I was thinking I would need to operate at the same level from day one. That was not the case and I had to learn to ask for help again. In many ways, I had to become a newbie and embrace it. Everyone at Atmos is always so happy to help, which is one of the great things about working here.
If you could choose anyone, who would you pick as your mentor?
This is a tough one. There have been people who have supported me throughout my career. I can't single out a single person as I think there have been all sorts of influences on me. I've been lucky enough to have some great line managers and colleagues who guide me on my journey in Atmos. I think in life you have to absorb the experience of others and then shape that into something that works for you. Everyone has valuable lessons to teach if you are willing to learn.
If you could go back and speak with the 16-year-old you, what would you tell yourself?
I think that the 16-year-old me wouldn't listen to anyone. So, even if I had the opportunity, it would probably be a wasted opportunity. I am perfectly happy where I am, I am quite happy with my life.
What do you like most about your job?
I have had a great time working for Atmos for many reasons. While we operate globally, we're at the size that means you get hands-on experience very early on in your career. Because we're not too big it means we don't have specific roles for every stage of a project – we're not a conveyor belt business. That means that as an engineer, you're involved in every stage of a project from the start to commissioning and then tuning for sign-off. You're handed this responsibility but you're not flying solo as you have great people around you as well.
What advice would you give to recent new entrants?
Embrace the challenge. Don't be passive - don't expect things to happen to you, go and make them happen.
What is your motto or personal mantra?
Step outside of your comfort zone.
What's your favorite blog?
I'm more of a podcast person. I have a few lists on Spotify that I add interesting podcasts to. I enjoy audiobooks when I have time, though there's less travel right now to enjoy them without distractions.
What's your favorite country to visit?
I'm not a fan of flying so avoid it for personal travel whenever I can. Though the business trips with Atmos made flying worthwhile as I got to visit some stand-out places. To name a few places: Malaysia, Taiwan, Australia, Italy and many others.
I also got to visit Moscow where I was shown around some amazing places but I'd like to go back and see it again on my own to understand the people and the place better.