In this "A conversation with" we catch up with Martin Duff, Business Development Director (water) at Atmos, who's been supporting Atmos on their mission to help the UK water industry meet the ambitious performance commitments they face. In this article we ask Martin about:
​What was your journey to Atmos?
It started when I was studying for my A levels. I studied quite a variety of subjects: chemistry, maths, physics, geography and environmental science. Out of all those subjects, the one that really grabbed me was physical geography.
I enjoyed my geography A level and I started to wonder if I could take that a bit further, so I opted for a BSc in geography and environmental management.
It was quite new at the time because environmental management wasn't really a thing back in the early 2000s. It appealed to me because it was concerned with improving the environment that we live in. I thought it'd be interesting so I studied that at university and then I sort of "fell" into the water industry when I finished.
After university, one job that caught my eye was at a company that offered solutions to counteract the effects of flooding in urban areas. At university we were taught that when it comes to a built environment there's not a lot you can do when there's a disaster like flash flooding, but here was a company who were seemingly offering solutions to actually deal with that, so I applied out of interest, got the job and took it.
I started in a project engineering role, then a technical sales support role and that was what got me into the water industry. I quickly moved across to the international side of the business and into business development. I was working in all the markets outside the UK and the US at that time, ie outside of the company's core business areas.
It was a valuable learning experience because it taught me quite quickly that there's more than one right way to achieve something to get to a resolution.
I stayed at this company for six years while I learned my craft and got my teeth into the water industry, particularly the international water industry. I then had a bit of an itch that needed scratching, I wanted to move to London and do the "London thing".
I briefly stepped out of the water industry but stayed within the construction sector, while working for an Italian ceramics manufacturer in business development. It was fast paced, politically driven and very commercially focused and I gained a lot of my commercial experience in that role. In 2015, I moved back to Bristol when my wife and I were expecting our first child.
Having a child took precedence over the job. I actually went back to the company that I had originally left for London and was positioned in the UK water side of the business. Ever since then I've been UK water focused and selling a variety of technology solutions into the UK water industry, including water treatment solutions, biological treatments and energy efficiency technologies.
Now my focus is on water leakage. In the past fifteen years I have learned a lot about the water sector, and particularly the UK water sector over the last eight years, so that's how I ended up at Atmos.
What is your biggest achievement to date – personal or professional?
I'd have to say my family. Being able to raise a family while progressing in my career. My wife and I are both ambitious people so to be able to find and create the right balance by raising three kids and keep pressing on with my career is my greatest achievement.
What does a typical day look like for you and what are you currently working on?
A typical day varies for me because the nature of my role is varied.
At any given moment I could be talking to a customer, having an internal meeting, discussing the deployment of a trial or looking at the product development and innovation for the water industry. I could be sitting in a regulatory meeting or I could be networking at conferences. There's a range of things I could feasibly be doing at any moment in time, but I do still have a routine.
I'm based down south so I split my time between the Manchester head office, travelling to face-to-face customer meetings and working remotely. Most days tend to start with getting up early to sort out the kids, getting them breakfast and doing the school run. Then it's a case of checking on emails that have come in overnight.
My role predominantly focuses on taking a new version of Atmos' technologies into the water industry; both sides are still learning in this area so I'm a sort of match maker between Atmos and the water sector.
What three words would you use to describe your role at Atmos?
Rewarding
Working in the water industry is a very satisfying experience knowing I'm working in a sector that provides arguably life's most valuable resource. I do find satisfaction in the fact that the solutions we offer to the water sector can help reduce costs and address challenges such as carbon emissions.
Challenging
Although working in the water industry is rewarding, it does come with its challenges in that the way the water industry is structured and regulated in the UK is quite unique. I'm also still relatively new to Atmos so there's a lot of learning to be undertaken at the moment, but I thrive on challenges.
Engaging
I've only been with Atmos for a short while but the engagement with my colleagues has been fantastic. Everyone is willing to help. I've worked for several companies in my career and experience tells me it's the people you work with who make the difference and the people and culture here are spot on.
The engagement has been brilliant on the customer side too. It reinforces that we have a solution they need.
If you could switch jobs with someone, who would it be?
I really enjoy my job and I wouldn't want to change it at all. On the other hand, if I could try something new for a day or a short period, I'd probably pick something around my interests like cooking or car racing. As into cars as I am, I think I'd probably make a better chef than a racing driver!
What would you like to achieve in the next five years at Atmos?
My goal is to grow the water side of the business into something at least the same size as the existing oil and gas business for Atmos. I want to make meaningful progress by that, so there's an awful lot to get done. In the next five years, I also want to find the time to study for an MBA as I feel that getting that under my belt would also further my ability to achieve my future goals.
What are your biggest professional challenges?
The main challenge at the moment is taking Atmos' existing technologies that have been successful in the oil and gas industries for the past 27 years and reapplying them to the UK water industry to reduce and mitigate the effects of water leakage. There's a challenge in creating the right balance between product development and managing customer expectation.
The technology is fast paced and with every change we see improvements in supporting technologies like communications, so we'll always be continually adapting our solution. It's important we take what we have now and start delivering results for customers today.
If you could choose anyone, who would you pick as your mentor?
There are many people close to me who excel in multiple areas, whether that be on a personal or professional development level. I take inspiration from each of them to help me improve myself. Mentoring doesn't have to be out of reach, you can gain mentorship from family, friends and colleagues around you every day. For me, the valuable lesson with mentorship isn't what they tell you, it's what you learn from it and how you apply that learning to make your own positive change. All of us can access mentorship very easily using the people around you.
If you could go back and speak with the 16-year-old you, what would you tell yourself?
Don't be afraid to ask questions or voice your opinion.
When I was young, I was probably too worried about what others thought and didn't want to stick out from the crowd. However, when I was at university, we were encouraged to adopt a critical thinking approach and were actively encouraged to challenge what we were being taught. I wish I'd been encouraged to adopt that approach when I was younger.
Not being afraid to ask questions helps you develop resilience and resilience is key to progression. For me, you need resilience so you're not afraid of making mistakes. I think it's people's fear of making mistakes that holds them back from progressing the most.
I think if I'd known that when I was 16, I probably would have progressed even quicker. I think I'd also tell my younger self to take the time to look around the people I was with and the landscapes I was in because the world is a beautiful place. I'd tell myself to breathe it all in while it's still commitment free.
I think when you're 16 all you do is look forwards. You're always wanting to keep moving, keep on going. While I was like that, and still am like that, I think the difference between where I am now and where I was is I now also take the time to enjoy the moment. I think having kids does that to you as well, as you see them growing up right before your eyes.
What do you like most about your job?
I'd say there are two main things that I like: the people and the variety. On the variety, I don't like sitting still and doing the same thing again and again. Being able to do something different every day at Atmos is very enjoyable.
It's also the people you work with, and the culture that produces that is what makes the biggest contribution to your success because if you're happy in the environment that you're in and you trust the people and the processes around you, then you will excel and it becomes a very enjoyable workplace experience.
I could see from quite early on that Atmos has the right culture and that's down to the people that I work with.
What advice would you give to recent new entrants?
I suppose I'm probably in a good position to answer that, because I'm relatively new myself.
From my experience, it's been very positive. The advice I'd give to newcomers is that you need to ask questions. You might not be given all the answers, but everyone at Atmos is accessible. So do ask questions and you'll integrate and learn quickly.
What is your motto or personal mantra?
I have a couple of favorites, the first being "Carpe Diem, Memento Mori", which roughly translates to "Live for today, you're not eternal".
The second is, "work hard play hard". I probably do less playing these days, but this one's more about work life balance.
For me, both of those phrases have the same sort of implication for me. I'm really conscious of time and I don't want to waste it so I like to make best use of myself in work and at home.
What's your favorite blog or website you follow?
There are some water industry specific websites where you can receive weekly and monthly emails if you join a mailing list which for me personally provides enough of an update.
British Water is a good example. It's a trade association that represents a supply chain in the water industry and I find that it's a really valuable resource for networking and for receiving policy regulation updates too.
On the social media side, I find LinkedIn to be the most useful because it offers a one-stop-shop of sector and general updates.
What's your favorite country to visit?
I've been lucky enough to have traveled the world through both work and personally. I've always loved traveling for work, because when you go to different countries, you get to experience the local culture because the people you tend to go and see are often locals themselves.
It's hard to pick one or two that stand out on a personal level, but one is Barbados. I've been there a couple of times and I love the place, I love the relaxed way of life and the landscape is spectacular. It's like a picture-perfect postcard, so I'm looking forward to going back there at some point with the family.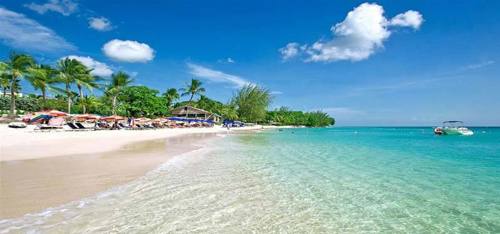 The other place I really love is Wales, more specifically, North Wales. I've been going there since I was a child on family holidays and I continue to go there regularly with my family. I think the landscape there is amazing and I'm lucky to have something that's a relatively short distance away where I don't have to get on a plane and hop off anywhere.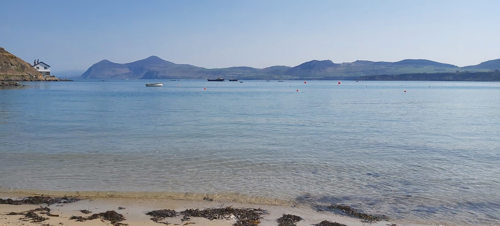 Life at Atmos
Martin Duff is Atmos International's Business Development Director (water) and is using our leak detection solutions in the oil and gas industries to drive our innovation to help the UK water industry meet the ambitious performance commitments they face.