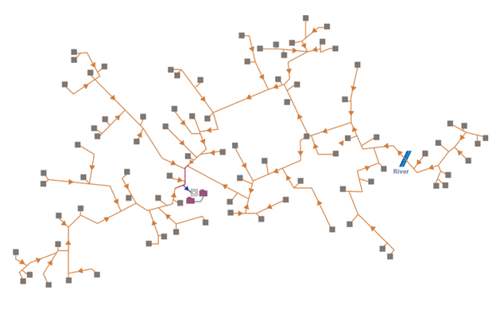 Example of a complex gathering network
The rise of fracking has reshaped the global energy landscape. Today fracking accounts for more than half of all U.S. oil output, per the Energy Information Administration. Fracking accounted for less than 2% of American oil production in 2000 when there were just 23,000 fracking wells pumping about 102,000 barrels of oil a day. Now there are 300,000 fracking wells, churning out 4.3 million barrels per day. US output has nearly doubled over the past decade and America only trails Saudi Arabia and Russia globally.

As oil producers hasten to install the infrastructure and gathering systems to support this increase in production gathering systems can quickly become complex very new wells are commissioned and brought online. Atmos SIM is an offline and transient modeling tool that can help with the design and analysis of these systems. Designers can use time profiles for flow and pressure constraints to see how the addition sites will impact hydraulics at the location where they tie into the main trunk line and how the injections will affect the overall gathering system. Atmos SIM makes it simple to simulate and study important operating parameters such as flow capacity study, pipeline sizing, boosting pressure station design, as well as thermal and water hammer effects. This unique ability to quickly perform simple hydraulic simulation studies is already allowing Atmos customers to safely produce more oil faster.