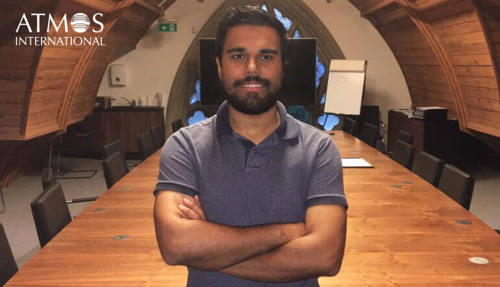 Role: SIM Project Engineer
Time at Atmos: Since November 2011
Location: Costa Rica
Background
Mauricio was born and grew up in the San José suburbs in Costa Rica. After finishing technical college (high school level), Mauricio studied at the University of Costa Rica. He started his degree in Chemical Engineering before switching to Electronics.
During this time, he was playing soccer (football) professionally for Belén FC (Costa Rica) as a goalkeeper and also started at Atmos International as a part-time Project Technician. At the age of 22, Mauricio decided to retire from professional football and join Atmos full time to focus on his engineering career.
Day in the Life
Mauricio wakes up at five am or earlier and be in the office at six to beat the notorious San José traffic. In his seven years at Atmos, Mauricio has been a jack of all trades regarding the projects he's worked on including Wave, Wave Flow, GUI, batch tracker, pig tracker and was even a Product Champion. Most recently, Mauricio has worked as a Maintenance Engineer, providing customer care, evaluating alarms and handling any other issues that may arise.
Mauricio spent most of November in the UK, training with the SIM team to become a SIM Project Engineer. This is the first time he has traveled for Atmos and hopes his new role will continue the trend with customer site visits.
Thoughts on the UK
"I've always liked the cold weather in Costa Rica which is about 15°C, but I'm still not used to the UK cold after a couple of weeks here," says Mauricio. "I do really like Manchester though; it's like the city was frozen in time regarding the architecture.
"The Atmos office is a great example of what Manchester has to offer. Being a converted church it's old, a little eccentric but very cool. The atmosphere is great and the team here is so friendly and welcoming. It's more than just a workplace with lots of people participating in social activities and of course, playing football weekly."
Favorite thing about Atmos
"In the seven years I've been at Atmos, I've worked across the vast portfolio of services and products Atmos offers. There are always new things to discover and challenges to overcome so getting bored is impossible," says Mauricio.
Fun Fact(s)
In 2017, Mauricio played for the national team in the IFA7 nation's tournament in Guatemala, an international competition of 7 a side soccer/football. Mauricio is a movie fanatic and regarded as the person to go to in the Costa Rica office for movie reviews and discussions. His favorite films are the Marvel series.