Posted Mar 26, 2018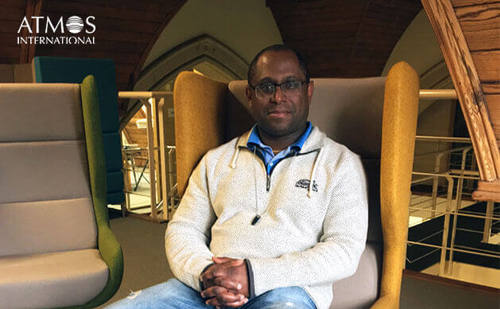 Role: Operations Manager
Time at Atmos: Since Oct 2015
Location: Manchester, UK
Background
Stephen is a born and bred Mancunian from the Longsight area. He started his career as a Trainee Draftsman at Kennedy and Donkin and finished his IETB apprenticeship in Control and Instrumentation (C&I). There he spent 27 years climbing the ladder all the way to Regional Project Systems Manager following his ONC and HNC accreditation in C&I.
His drive to work on more overseas projects led to Stephen getting a Mathematics and Computing degree from the Open University. This qualification allowed him to move into different Engineering Industries where he worked on IT infrastructure projects like city design for government agencies and developers across four continents.
One of the projects he is genuinely proud of is his involvement in the building of Palm Jumeirah. While he didn't move an inch of sand to create the human-made tree-shaped island in Dubai, he helped plan and manage the island's IT infrastructure.
Day in the Life
Stephen wakes early to beat the morning traffic into work on his motorbike. Ask him what he does in the office and he'll pause to think – not because he doesn't do anything, but because he does so much. Most of his job is keeping everyone happy, from customers to his team, ensuring each project is on time, to budget and specification.
An Operations Manager with an "open-door" policy, Stephen is always there when you need him. "I'm here to help with anything Atmos needs doing to make our employees and the company successful, whether it's IT, HR or just lending an ear," replies Stephen.
Stephen likes to spend his free time with his teenage daughters. They try to hit the trails with their mountain bikes every weekend. Stephen's also teaching both of his daughters how to play squash.
Favorite thing about Atmos
Stephen, who's been with Atmos for three years now, says, "I love that the days fly by here – in a good way. I get to interact with the best people and engineers in the industry, and there's always a challenge to overcome so it's never boring."
Fun Fact
Stephen has traveled faster than any of his daughters and most of humanity ever will. For his honeymoon, Stephen flew on the supersonic Concorde from London to New York at Mach 2 speeds and then drove across the US in 17 days.