On Friday 27 September we took part in Macmillan's world's biggest coffee morning. This event is carried across the whole UK where businesses, communities and families come together to bake home made goods in exchange for charitable donations.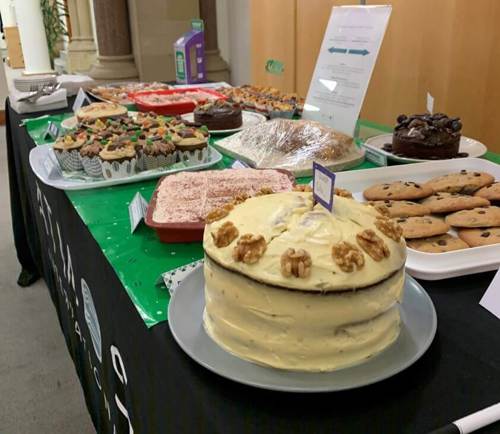 Bake it or fake it
Numerous Atmos employees donned their aprons at home to bring in their baked goods for the event. Bakes included a cracking carrot cake, dark chocolate chip cookies, lemon drizzle and raspberry brownie cheesecake and cupcakes.
For those who aren't as skilled in the kitchen as others, there was the option to fake it and bring in any shop bought bakes so that everyone had a chance to get involved.

The great Atmos bake off
To help create a buzz Atmos created a bake-off style competition. Where only homemade bakes were allowed to enter. The bakes were then judged by our selected cake enthusiast judges who looked at the presentation, texture, colour and flavour of all the bakes.
Once the bakes had been judged and scored it was time to announce the winner. Winning by 1 point, Software Tester, Stephen Terry, was announced the winner with his chocolate caramel and mint chocolate cupcakes.

Donating to a great cause
The money raised will help Macmillan give physical, financial and emotional support to those suffering with cancer along with their friends and family. Support can be helping with benefits, guidance about treatments and reassurance for those who are worried.

A big thank you to all our employees who baked and donated. We managed to raise over £250 for Macmillan.