Atmos has secured a major theft detection contract from the government-run pipeline company in a Latin American company recently plagued with pipeline product thefts and the subsequent leaks that resulted from these makeshift taps. The contract award followed a spectacular live demonstration of the process of the TheftNet Service where Atmos Engineers accurately detected illicit taps made by thieves and test taps made by the client.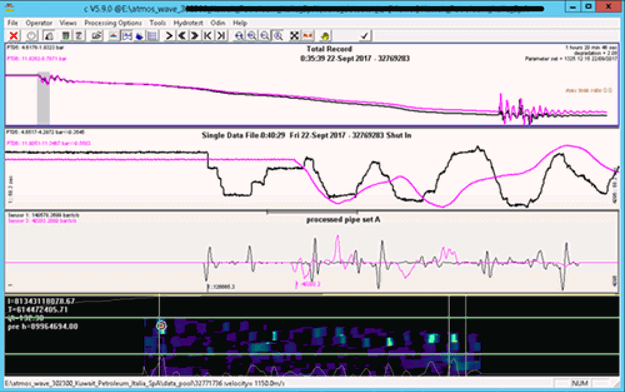 Atmos Wave Detector Display Valve Opening (12:40 AM)
In Europe, offline data analysis (AKA TheftNet) recently detected and located an illicit tap on September 22nd on a 58km multiproduct pipeline. The pipeline was shut in at the time of the attack with the pressure steady. Then the pressure affects form water-hammer was clearly seen, followed by a gradual decrease in the pipeline pressure, with several different gradients, synonymous with theft events seen on other pipelines. Approximately one hour later, the pressures increased sharply, followed by the water-hammer expected as the theft valve was closed.