Atmos colleagues make foodbank donation in time for Christmas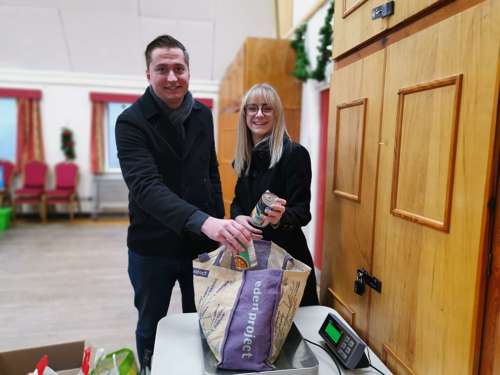 Colleagues from Atmos International have been busy collecting items to donate to The Chorlton and West Didsbury Foodbank this Christmas.
Following the list of essentials provided by the food bank which is part of the Trussell Trust, tins of soup, cartons of long-life milk, biscuits, pasta and much more were provided by the 60 staff based at Atmos International's head office in Didsbury.
The Chorlton and West Didsbury Foodbank has a number of centers across the southern suburb of Manchester. Established in 2014 by local churches and community groups, they have provided 1,915 emergency three-day food supplies to people in crisis. Run entirely by volunteers, clients are referred to one of the centers to be provided with core essentials. As well as providing the basics, the volunteers provide cups of tea, warmth and advice where possible. One of the volunteers said: "We don't want to normalize it but we equally don't want people to feel there is a stigma by needing to visit a food bank.
"Last week we had a single father who came for the first time with his two-year-old daughter. He'd been on a succession of zero-hour contracts while trying to maintain a roof over his child's head. At a crisis point, we were at least able to ensure both would not go hungry."
She added: "In an ideal world, we wouldn't be needed. Donations from companies like Atmos International make a massive difference to us, especially at this time of year. It may seem a small thing to a business but it makes a huge impact on those needing help. We are also grateful for those who donate so that we can top-up our food stores when stocks run low."
Melanie Beverly-Hughes, Marketing Assistant for Atmos International said: "It's really humbling at this time of year, especially, to see that food banks are a necessity. I'm really pleased to play a small role, along with my colleagues in providing some small help to our local community with our donation."
There are lots of ways organizations can support their local Foodbanks including partnership: https://chorltondidsbury.foodbank.org.uk/give-help/
Pictured are Lubo Durisin (Marketing Associate) and Melanie Beverly-Hughes (Marketing Assistant) weighing in some of the Atmos International donations.