The IET's Chartered Engineer program
Colleagues at Atmos International (Atmos) have been taking the steps to get closer to Chartered Engineer status through our ongoing partnership with The Institution of Engineering and Technology (IET). Five Atmos engineers have completed the stage one of the first ever 'Get Registered' program, delivered by The IET.
The idea behind the program is to provide ambitious engineers and technicians with an opportunity to achieve professional registrations like EngTech and CEng (Chartered Engineer status). It has been introduced to help break the process of achieving professional registrations down into manageable chunks. Get Registered also aims to address the widely discussed skills shortage in the engineering sector (New Engineer).
Once they achieve professional registration, Atmos engineers can benefit from:
Use of an internationally protected title
Recognition as a professional in the engineering field
Further career opportunities and salary prospects
More influence within the organization
Opportunities to network with influential and inspirational people
International recognition of professional competence and commitment
A head start with completing professional registration
Those who took part in the program have had their competencies independently assessed, credentials verified and are committed to professional development. With the Get Registered program being so flexible, there's a category for varying stages of career. There are four core categories The IET is licensed to award through the program including:
Chartered Engineer (CEng)
Incorporate Engineer (IENg)
Engineering Technician (EngTech)
ICT Technician (ICTTech)
More Atmos colleagues are expected to take part in the program this year, with those who completed stage one last year returning to finish the program.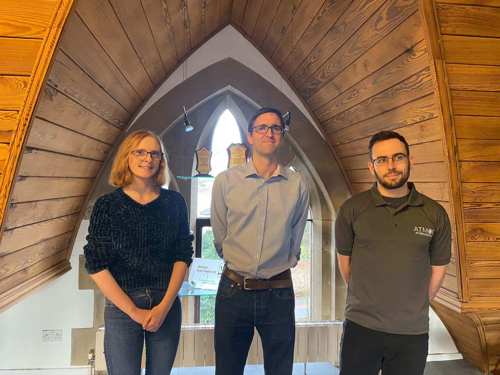 Phil Edwards, Technical Manager at Atmos said "The Get Registered program has provided Atmos employees who have taken part in the scheme with a good overview of what's involved with completing an application to become chartered. Those who didn't sign up this time around (due to too many other commitments) liked the aim of the new program and will be interested in signing up for it next year."
Commitment to career development
Atmos is dedicated to personal development and being a thought leader in pipeline simulation and leak detection. This is what helps us to deliver high quality projects in accordance with engineering best practice.
Jun Zhang, founder and CEO at Atmos said "Being part of the program has been important for Atmos as we're committed to going beyond expectations in everything we do. Maximizing our potential is one of our company values and key to our progress forwards as leaders in pipeline simulation and leak detection. We understand the importance of investing in people."
Learn more about careers at Atmos
If you're looking for your next engineering challenge, learn more about careers at Atmos.
References
https://newengineer.com/blog/overcoming-the-shortage-of-engineers-1509925