Atmos is one of 150 Enterprise Partners during the Institute of Engineering and Technology's 150th year.
Atmos International (Atmos) has been named one of The Institute of Engineering (IET) 150 Enterprise Partners during its 150th anniversary.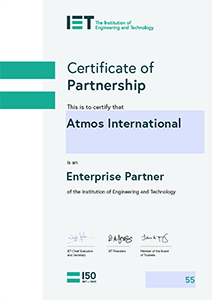 Atmos became an Enterprise Partner in 2019, recognizing the organization's aims and ambitions to provide access to Chartered Engineer status for all of its colleagues. As part of the agreement, Atmos colleagues can become members of the IET and access continuous professional development and higher learning.
In a letter to Atmos, Michelle Richmond MBE, Director, Membership & Professional Development for the IET said "In 2016, The IET launched its Enterprise Partner programme and Atmos International has been vital in ensuring that our Enterprise Partners have a platform in which they can collaborate across our Partnership Community.
Our Enterprise Partners are a true demonstration of vibrancy and innovation and are a great representation of the diverse nature and drive that makes engineering and technology so brilliant"
Dr. Jun Zhang, Atmos CEO, added: "We encourage all of our colleagues to achieve their aspirations, being an Enterprise Partner with the IET enables us to provide multiple opportunities to progress their careers, learning and industry collaboration."