Giving back to the community
As Christmas 2021 approaches, colleagues at Atmos International (Atmos) around the world have been working to give back to local communities and charities this month. A variety of charity work has formed this initiative including, contributing to foodbanks, taking part in Christmas Jumper Day 2021 and donating gifts to The Salvation Army Angel Tree.
Charity work for Christmas 2021
In our Manchester office, Atmos colleagues have been collecting food to donate to Chorlton and Didsbury foodbank. It is part of a network that works towards combating poverty and hunger across the UK. They provide three days' emergency food supplies to support local people referred to them in times of crisis. The foodbank relies on its volunteers, who give their time to meet with people and distribute the food and supplies.
Atmos colleagues in Manchester also took part in Christmas Jumper Day this Thursday. The fundraising event, by Save the Children helps kids around the world each year.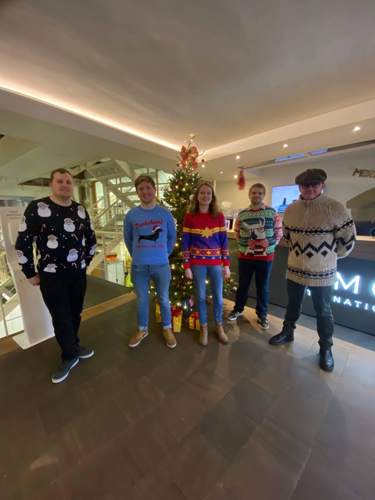 In our San Antonio office, colleagues also collected food for the local foodbank. In addition we collected gifts for The Salvation Army Angel Tree to donate as Christmas presents to five children. The program helps to provide Christmas gifts to thousands of children in need. Some of the donations included the skateboards and bikes that were on the children's wish list.