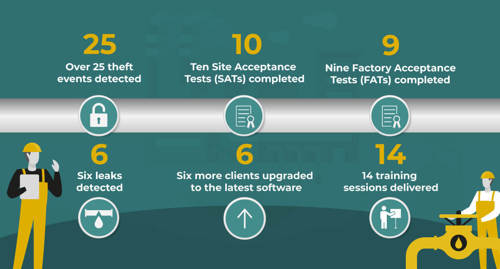 Key pipeline leak detection updates
During the third quarter of 2022 we've continued to detect leaks and thefts accurately and reliably. We've also released an ebook on global pipeline thefts which focuses on the regions most heavily impacted by the issue, the challenges and how progress is being made in pipeline theft detection technologies.
Quarterly achievements
Over 25 theft events detected
Six leaks detected
Ten Site Acceptance Tests (SATs) completed
Nine Factory Acceptance Tests (FATs) completed
14 training sessions delivered
Six clients upgraded to the latest software
Here are some of the handpicked stories from the quarter to share with you how we've been supporting our customers globally.
Continued success in detecting multiple thefts in Latin America
Mexico
For the past few months our theft detection technology has been reporting a tapping point on a customer's pipeline in Mexico. Recently they dug to search for the tapping point and discovered the valve (downstream from the reported point in figure 1) with two kilometers of hose attached to it.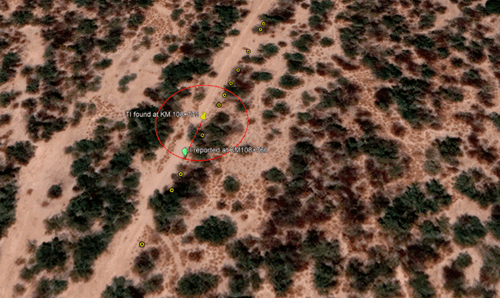 Figure 1: The close vicinity between Atmos' reported tapping point location and the actual location (15 meters from the reported location)
Costa Rica
One customer in Costa Rica informed us that they had found an illegal tapping point and the high accuracy of Atmos Wave's location estimate helped them find the tapping point quickly.
At the theft site authorities managed to intercept twelve containers full of stolen product.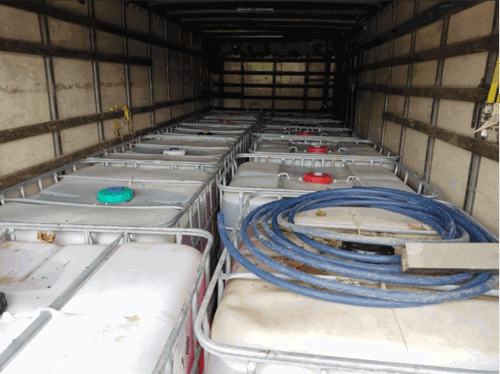 Figure 2: Twelve containers of stolen product discovered at the theft site
Theft detection is made effective by Atmos because our solutions have the following benefits:
Accurate theft and leak location
The ability to detect when thieves open or close the theft valve on an illegal tapping point
Capacity for leak detection during steady state, transient and shut-in conditions
Leak detection in Africa and the Middle East
Africa
We completed a site survey of a Wave Flow project for one customer in Kenya. The goals of the site visit included:
Gaining an understanding of the pipeline layout, existing equipment and instrumentation
Identifying what existing infrastructure is available for the leak detection system, such as enclosures and communications
Confirming the hardware to be provided at each site
Using Atmos' surveying equipment to assess if non-intrusive hardware could be installed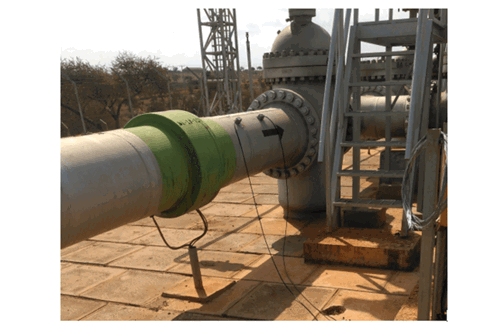 Figure 3: Atmos performing an ultrasonic survey on the customer's pipeline in Kenya
The Middle East
In August we conducted the site acceptance testing for a customer in Kuwait with no punch items. Their water pipeline network required two additional injection manifolds to be added to their existing project. Each manifold was covered by a separate leak detection unit with one inlet and ten outlets.
The SAT successfully detected a 1% leak in under 20 minutes.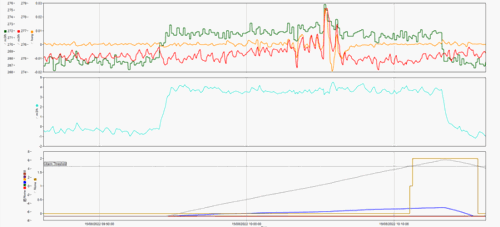 Figure 4: The results of the SAT detecting a 1% leak in less than 20 minutes
Quickly and effectively detecting ruptures in the USA
In September, a pipeline rupture was detected on one of our American customers' pipelines. Workers in the field had struck the pipeline and the rupture detection system generated an alarm in just 42 seconds. The pipeline was successfully shut down one minute after the event.
Even with the safest operating and maintenance standards, the risk of pipeline rupture still exists, so it's important to consider adding rupture detectors to leak detectors. Third party activities such as excavation digs and theft operations and natural disasters like earthquakes and landslides can cause severe damage to pipelines.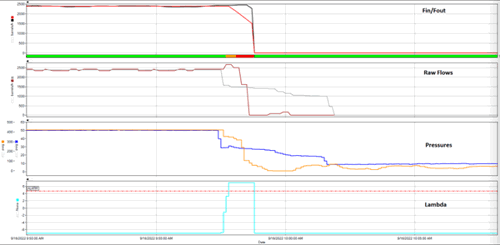 Figure 5: Data from the rupture detection system during the rupture event
Learn more about our pipeline leak detection solutions
Discover our range of solutions for leak and theft detection today or get in touch.