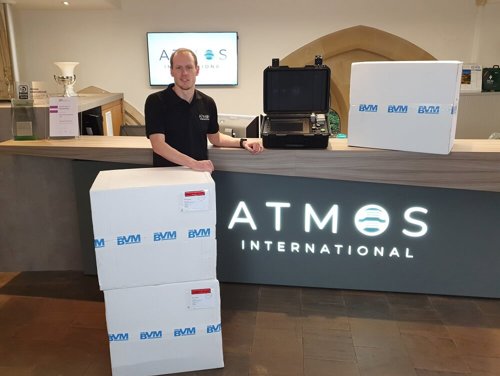 Christmas came early for the Atmos International (Atmos) aviation team as they took delivery of 10 new computer units for the Atmos Portable Tightness Monitor (APTM) systems from BVM Limited.
The APTM is a portable statistical tightness monitoring system used to test for leaks in airport fuel hydrant systems. Atmos' continuous investment into research and development means the new computer units improve the APTM system by reducing test times to only 15 minutes.
The new computer units also allow 4G communications which offer more flexibility across airports and remote locations and allows the aviation team to provide better and faster support via Atmos Aviation Care, a remote cloud-based service.
Dean Golba, Head of Aviation at Atmos International says, "With the new computer units, we can now offer faster testing times and better support to our customers. BVM Limited has done an excellent job meeting our ambitious specifications, making the computer unit both more robust and sleek."
Chris Brierley, Sales Director at BVM Limited added, "The BVM engineering and commercial teams involved with the Atmos International project are immensely proud of the solution engineered for the new Atmos Portable Tightness Monitor application. We were extremely grateful for the positive input and collaboration provided throughout the entire project and it was a sincere pleasure to work with everyone within the Atmos team."
The APTM systems with new computer units will be available from January 1, 2020.
Click here to find out more about aviation fuel hydrant leak detection from Atmos.