Posted: 10 May 2018
The Selection Committee from this year's ISA Automation Expo & Conference (AEC) included Atmos International's non-intrusive pressure sensor in its Top 5 Innovations of 2018.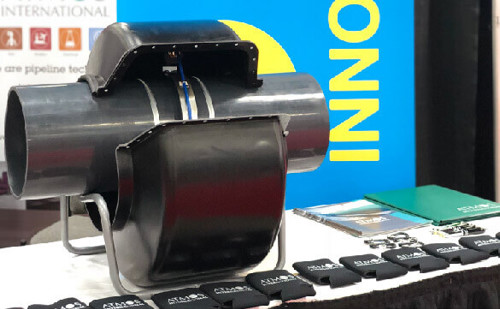 The Atmos non-intrusive pipeline pressure sensor at AEC 2018
The sensor not only stands out in its field but others as well since the AEC is one of North America's most significant automation events and covers a diverse range of global industries including petroleum (oil & gas), mining, power, water & wastewater, forestry, agriculture and more.
The non-intrusive pressure sensor's ability to provide the field pressure data to support a robust leak detection system much faster than a traditional project without expensive installation costs impressed the AEC Selection Committee, made up of end-users who are automation, instrumentation and control systems professionals. The sensor attaches outside the pipe over the coating, eliminating the need to drill or weld on the pipeline.
"The unique non-intrusive pressure sensor arrives at an opportune time when pipeline operators are reinforcing their leak detection defenses," says Peter Han, Business Development Manager at Atmos International.
"It's important to understand that leak detection is the most vital component in minimizing the consequences of a pipeline leak. Especially as producers are adding more gathering networks and produced water pipelines thanks to the North America oil production booms."
Combined with high-resolution data logging and proprietary digital signal processing algorithms, the non-intrusive sensor detects small pressure changes. As the sensor tracks progressive pressure changes that occur over long periods of time, it works with the Atmos leak detection software to allow the fast detection and location of small leaks.
To showcase the five most innovative products/services, the AEC put together a Self-Guided Tour. Attendees were given a map at the show that indicated where the Top 5 innovations, including the non-intrusive pressure sensor, were found on the exhibit floor.