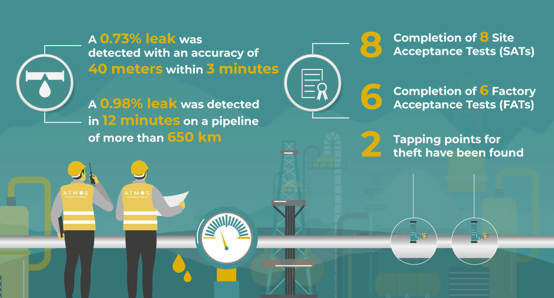 Key pipeline leak detection updates
It's been a busy quarter, with an industry focus on environmental protection and emission reduction, placing a spotlight on pipelines.
Quarterly achievements
A 0.73% leak was detected with an accuracy of 40 meters within 3 minutes
A 0.98% leak was detected in 12 minutes on a pipeline of more than 650 km
Completion of 8 Site Acceptance Tests (SATs)
Completion of 6 Factory Acceptance Tests (FATs)
2 tapping points for theft have been found
Here are a few handpicked stories from customers we've been helping around the world during the previous quarter.
Pipeline simulation for training
Atmos Trainer ensures that pipeline operators are adequately trained to recognize and react to abnormal operating conditions. A UK customer recently implemented the pipeline simulation across its product pipelines with multiple-inlet and multiple-outlet.
The project was complex as the customer required a system that enabled them to test its SCADA system in an offline environment. Therefore, the pipeline hydraulics needed to be simulated for the pipeline networks and the programmable logic controller (PLC) at more than 20 stations were replicated. The PLC had control over the pumps, valves, manifolds, DRA injection, pigging station, meter bays, provers and strainers. A storage tank was also included as part of the simulation for training.
An extensive two-day training course was delivered by Atmos International to the end-users of Atmos Trainer. They enjoyed the hands-on practice and exercises, which has helped them adopt the new pipeline simulation effectively.
Specialist engineering expertise were required to ensure the system could respond correctly to the SCADA commands and work robustly to handle all operating scenarios.
Bespoke development
Often customers come to us with specialist requirements. Our non-intrusive leak detection instrument Atmos Eclipse has recently been developed further to work across 4G communication for one customer. Despite the project encountering various challenges such as site visits in the height of the COVID-19 pandemic, we have installed Atmos Eclipse in a pipeline network spanning more than 2,000 km.
Passing leak detection tests
When you invest in crucial pipeline leak detection technology, reassurance that it is going to work is important. While implementing Atmos Wave Flow for one customer this quarter, the customer carried out 6 calibration leak tests at 2 different locations on a 100 km crude oil pipeline.
Atmos Wave Flow detected all 6 test leaks, providing a leak location error within 1% of section length. The leaks detected were only 6mm and 8mm in diameter, with less than 0.63% of flow rate, demonstrating the high sensitivity and location accuracy of Atmos Wave Flow.
Another customer carried out 34 leak tests on Atmos Wave between July and August this year to help test the theft detection capability of the product. Atmos Wave was able to detect all the leaks, with a location error between 0 and 1.8% in a 25 km section. It was also able to identify slow valve opening leaks in the 25 km section.
Flawless pipeline leak detection performance
"The Atmos system performed flawlessly when it was tested in a real-world scenario. Because of this we have elected to utilize Atmos for the low vapour pressure pipeline." Testimonial from a customer in Canada.
Work with us
We're industry leaders in pipeline leak detection, find out why many of our customers have worked with us for years. Read our case studies.
For more information or to speak to one of our experts, please get in contact.