Reflecting on Hollywood Hills' All Star baseball tournament season
A little league baseball team sponsored by Atmos International (Atmos) has wrapped up the summer season, claiming an impressive two second place positions and one first place position in a total of four tournaments.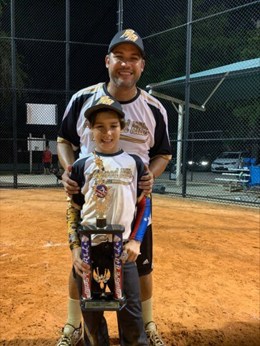 Not only is the Hollywood Hills team coached by our very own Principal Simulation Engineer Giancarlo, but his son is on the team too and was instrumental in the amount of hits, total bases and home runs they achieved across the four week period.
Some of the best baseball players in the division of 8U (eight years old and under) came from across the greater South Florida area to compete in this tournament, where the Hollywood Hills team showcased their skills at a high level.
Sponsorship from Atmos enabled the Hollywood Hills All-Star team to raise funds for buying team equipment such as matching baseball cleats, bags, game and practice uniforms, special practices at high end facilities, as well as food and drink to provide nutrition on some of the hotter summer days in South Florida.
Jun Zhang, CEO at Atmos International commented: "Supporting the local communities where our colleagues live is important to Atmos and it strengthens our value of "being brilliant together"."
Giancarlo commented: "I'm fortunate to work for an organization that encourages its employees' personal interests. Having the sponsorship from Atmos has helped the team achieve so much."
You can still donate to the Hollywood Hills
The team is looking to participate in other Baseball tournaments throughout the rest of the summer season.