Posted: 26 Oct, 2015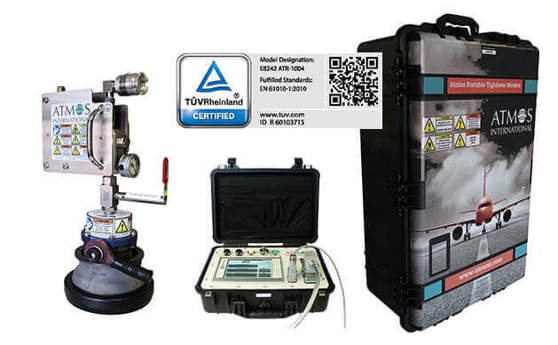 Atmos Portable Tightness Monitor is TÜV Rheinland certified
A safe and efficient airport fuel system will always be at the core of apron management. There are many benefits to using a hydrant fuel distribution system in favor of an airport fuelling truck. However, if a leak occurs on the system, digging up the apron in order to locate the jet fuel spill can be extremely costly, disrupting flights, and putting employees at risk. Atmos International can provide permanently installed, software-based hydrant leak detection, field tested at international airports including New Bangkok International Suvarnabhumi Airport and Sydney International Airport.
For some airports, leak detection was not included in the original specification for the hydrant design by consultants. Therefore, it can be difficult to retrofit without expensive modifications to the airport infrastructure.
With new and innovative solutions needed, Atmos has developed the Atmos Portable Tightness Monitor. This cost-effective system fits into two Peli-cases and can quickly be connected to hydrant pipelines by the operator. Once the test is completed the equipment can be quickly disconnected and moved to other hydrant segments for further testing. No modifications required to the hydrant.
No need for a SCADA system, no need for MOVs, no need for communications infrastructure, no need for any civil works to include new pipework for the leak detection system... Simply "plug and play"!
Please email marketing@atmosi.com to contact Global Sales Engineer Dean Golba for information about Atmos Portable Tightness Monitor.