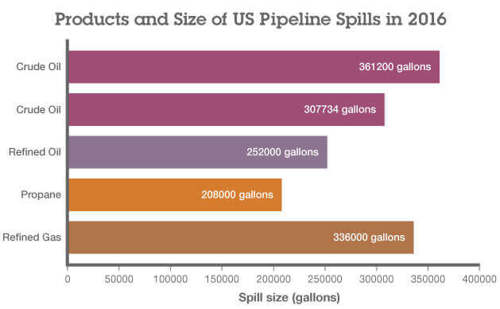 Pipeline spills were big news in 2016, and as we face a new year greater vigilance for pipeline leaks and ruptures is required as the 5 largest spills for last year paint a poignant picture. The worst pipeline leaks of 2016 were:
5. Colonial Pipeline (Shelby County, AL)
9 September 2016 - 336,000 gallons of refined gas seeped out of a service line into the ground. The line was out of service until late September 2016.
4. Dixie Pipeline (Sulphur, LA)
24 February 2016 – 208,000 gallons of propane leaked and had to be burned back, leaving around 8.5 miles of pipeline that had to 'bleed out' after the fire was under control.
3. Colonial Pipeline (Shelby County, AL)
31 October 2016 – 252,000 gallons of refined oil were lost after an accident on the pipeline sadly resulted in the death of two workers, and the hospitalization of four others. This leak also led to an increase in oil prices across the Southeast US.
2. Enterprise Product Partners (Cushing, OK)
23 October 2016 – 307,734 gallons of crude oil were split when a pipeline ruptured. According to United Press International the pipeline had been experiencing problems less than a month earlier.
1. Sunoco Logistics (Sweetwater, TX)
10 September 2016 – 361,200 gallons of crude oil leaked from a pipeline less than a year old. The company had already been fined for violating welding practices on the line, and federal regulations issued a Corrective Action Order to Sunoco to fix the pipeline Reuters reported.
These pipeline leaks and ruptures highlight the need for tougher regulations and improved industry practices to minimize the size and potential damage of future leaks by detecting them in the fastest possible time. Safety is crucial in protecting human life, and the environment, it is not only to keep the infrastructure working and fuel prices low.