A conversation with Angela Maya
How would you describe your job in a minute?
I'm on the front line, so to speak. I'm usually the first point of contact for customers and my role is responding to and looking for opportunities for Atmos International (Atmos). It's a 360 degrees role in the sense that I am there to listen, support and promote the business in my region.
There's also some project support too. As the first point of contact to many of our clients, I also help them in terms of liaising with our engineers. I try to be accessible at all times.
What has been your greatest professional or personal achievement to date?
I think it is combining my professional and personal life. Previously, I thought that everything could be separate. Now I'm working at home and as much as I want to disconnect, it doesn't happen as much as it should. I think that's the case for everyone now because of the pandemic.
I think the achievement for me is learning to be disciplined and ensuring I separate work from home life. The work/life blend is challenging but I have to remember I am a mother and we have a home life.
As a sales engineer, I've always worked from home but everyone else was out of the house. My eldest was at college, my youngest was at school and my husband was out at work. My house was my office. Now all four of us are at home juggling our schedules.
I miss the travel as well. It helped to balance me. I think in 2019 I got on more than 35 planes. Some trips involved lots of changes of planes too. I think we have to all recognize that it's been a big achievement to deliver great work during this pandemic.
What is a normal day like?
I don't have a typical day, in sales, there isn't one! When you're in sales and support, you try to plan as much as possible to stay focused. I tend to start at 8 in the morning. Between my husband and me, we organize things at home, my children start their classes earlier, then the morning is left to work. Normally my children have group discussions in their classes so there may be little interruptions during the day.
As for sales, nothing is concrete. It could be working through a challenging purchase order or liaising with customers on inquiries and often impromptu meetings. In sales, we must be ready to adapt and learn to prioritize regularly. We try to balance those days with quieter ones but that's the excitement of the role.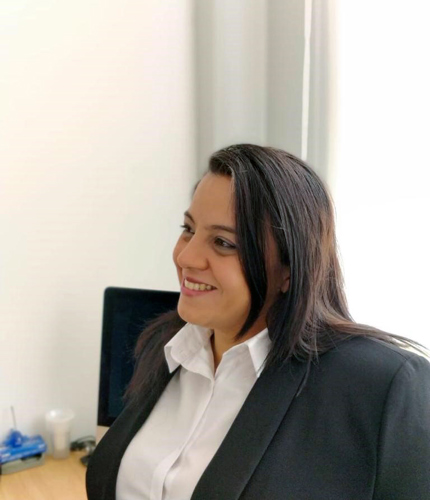 What three words would you use to describe your role?
I think one of the most important is teamwork. It is not only with the Atmos team, in sales we work with marketing, projects and maintenance. But there is also teamwork with the client. We all need to be a team to be able to achieve the objective. In our case that could be a project, an event or maintenance. Being brilliant together and maximizing our (joint) potential!
Secondly, I would use perseverance. It's important to remember that each sale is a journey. There are lots of factors involved on both sides. Sometimes that journey can have many turns and take time. For example, today I heard from a client that I first quoted a project to, four years ago, he has awarded us a purchase order.
Finally, it is confidence in what we do is well done and conveys that confidence to the clients. Sometimes we face challenges on the project delivery path but we continue without wavering. The clients have the certainty that we are going to overcome the challenges. I think that's part of our Atmos vision and purpose. To provide solutions and the best customer service possible.
I think our part in sales is to let the customer know that we are there to work with them and help them. Internal collaboration is also important. Working together as a single global company gives customers confidence too.
If you could change your position or work with someone, who would it be?
I love my job. From where I am, I have been able to see different perspectives and different areas and positions. I'd like to see it from the end customer point of view as well. What we sell at Atmos is a service as well as a product, so it involves many elements. Being on the client side would be very interesting.
What are your goals or wishes for the next five years?
I want to deliver more Atmos Theft Net services, they have been a success! On a personal level, I want to do a project management-oriented MBA.
What do you consider to be the biggest professional challenge so far?
To keep the confidence, security, reassurance of the clients, especially in opportunities that require innovative solutions. There are different views about which leak detection method is the most reliable. We know that not all pipelines are the same and there's a fine balance of integrating technologies. There are a lot of conversations and a lot of patience required to build up trust and knowledge. We also innovate a lot and where there may not be an initial solution, we'll find it. Our Research and Development team never gives up and that's bringing new products to the market all the time, such as Atmos Eclipse.
If you could have a mentor, who would it be?
Professionally I have the best mentor – my line manager who is the Senior Vice President Commercial for Atmos. He's helped me learn a lot and he is a great person. He has a lot of knowledge of Atmos, in the technical part and the commercial part. He knows all the clients and knows how the global market is handled. He knows how things are handled in LATAM, in Asia and elsewhere. So, in my area, I have the best mentor.
I also have personal mentors in my life that I didn't have before. In particular, the pandemic has changed the way I see things. I am in a very nice position right now with the mentors I have around me.
If you spoke to the 16-year-old Angela, what would you say?
That you don't have to regret what you do. If you did something bad, you have to own it and accept it is part of the growth, just as if you did something good. There is no regret and that is part of adolescence. In adolescence, you learn a lot, although you may not realize those things you learn until much later. Act conscientiously and don't regret it.
What do you like most about your job?
The challenges. Every time there is a new opportunity with a client it is a new challenge. There are quiet days and they are interesting but then a very complicated project comes along and a lot is learned from that challenge. Every client is an opportunity to learn something new, just like every region and country. You learn about people and behavior and I have taken a lot of learning from those moments.
What advice would you give to recent new entrants?
Be prepared and ready to learn. There is much to learn in all areas. I have been here for five years and I still learn a lot every day. Value the learning and also value the people around you who have more experience. Many things at work can be applied to life. Atmos is still a small company and we all know one another, so it helps if I have to ask someone a question in another part of the world. I think it's something that is not achieved in any company. It's also so important to share and be open. I think we have that level of personal connections that go beyond the pure professional work we have to do.  A lot of us are friends outside of work too which says a great deal.
Do you have a motto or mantra?
Breathe to live - the rest we can solve. All we need to do is breathe, we can solve the rest on the way or they can be dealt with in any way.
Do you follow any blogs or podcasts?
I don't follow any particular blog but I follow a lot of posts on different social media platforms. On Instagram, I follow Eddie Mosler who is a friend and a mentor, on LinkedIn I follow #folicroquideldía of Francisco Jose Martin Moreno, who has a very graphic way of showing the daily things of life. I like them very much. I also regularly check the Atmos blogs, I like to keep up with the interviews and posts we produce.
What's your favorite country to visit?
I would like to know Europe, I have never been, especially Italy. I also really like Colombia, I would love to go back to certain places like La Guajira, I went when I was younger and it is a wonderful place. I think my favorite city is Buenos Aires, Argentina. It has that combination of a European city with the people of Argentina, the combination is fascinating.