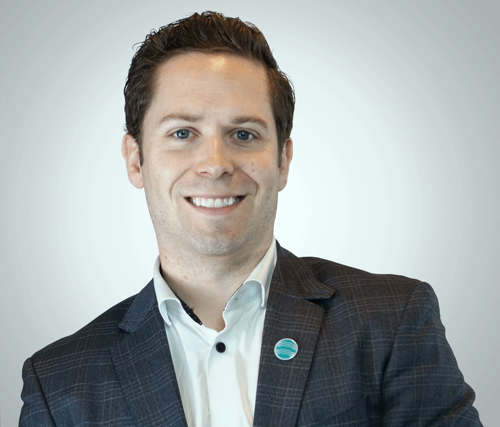 Can you tell us a little about yourself?
I'm from Calgary, Alberta, but I grew up in the US with a lot of my younger childhood years spent in Chicago and Houston. I moved around a little bit because my dad was in the oil business and was an engineer. It was inevitable that I'd also end up working in the oil industry too. I worked in and around Atmos for several years, initially starting my career in the oil and gas technology sector in Canada and working on the sales and marketing side of things. While the sector is huge, you tend to get to know everyone. It's a small world and I got to know Atmos very well. I was always impressed by their approach and drive to innovation. I couldn't ask for a better fit with the type of environment that I like to work in and the type of people I love to work with.
Did your father influence your kind of career choice at all?
Not directly, as I'm not an engineer! I went to business school and focused on marketing I've always been on the technology side. I worked with a smart technology firm that created smart boards for classroom and training facilities and while Calgary is kind of like the Canadian Houston, it wasn't until later in my career that I found myself working in the same sector as my Dad.
Tell us about your job in terms of building the Atmos presence in Canada?
I'm the Business Development Manager for Canada. It's my job to work with Canadian customers and help to identify synergies between them and Atmos. For me, it's about building a strong relationship built on mutual trust. We'll help them through the process such as evaluating the right leak detection system for their pipeline and operations. I see myself as an Atmos Ambassador here in Canada, promoting the leak detection journey. I think we play an important role for customers. It's not just about sales but assisting them in the implementation of our technology. I like the fact I have a consultancy element to my role and being a resource for these organizations and these individuals. Working on these projects is something I enjoy and take a lot of pride in
What do you see as your biggest achievement to date?
I've been a part of some exciting product launches within Canada and globally, so these rank highly. I'm still a relative newbie to Atmos but it's been great to get involved in developing products and services for the market here. But I guess my proudest achievement is the birth of my son Brandon (well my wife's achievement but I did play a role in it all!).
What's a typical day for you?
In the leak detection industry, there's no typical! I would probably say it does depend on the sales appointments and projects, knowing how to balance my priorities. Certainly, there are always internal obligations with the North American and UK teams, where we're talking about updates and new technology or planning for industry events. I would say that the customer is always paramount and that's something that I always keep front of mind and spend most of my time on. I'm often presenting our solutions to large groups that are sometimes just getting introduced to leak detection too. So that requires planning. I'm also constantly putting together proposals, which inevitably leads to more discussions with customers.
Earlier in the year, I was preparing a presentation for a conference that we were going to be presenting at. I'll work with the conference organizers to come up with a topic for the speaking track. With COVID it's changed how we may present, so we're trying some new things virtually that I'm excited about. My days can change a lot and that's what's exciting about it but the customer is always at the center. Solving their problem, sometimes complex ones are one of the things that I love about my role.
What three words would you use to describe your role?
I think I'm going to break your rules as one of these words is hyphenated!
They would be:
Wide-ranging – there's a broadness to what we do which makes things exciting, every day is different
Customers – I do feel we're on the precipice of not only exciting technology but solving the big problems for our customers
Challenging – Dealing with customers, technology and pipelines. No two pipelines are the same!
If you could swap jobs with someone (not necessarily Atmos) who would it be?
I like what the marketing team does. You get to know the whole business and understand the whole company. I think the storytelling role is important for us. I guess if I was fantasizing a little, I'd love to run a sports franchise. Like a general manager who is selecting players in a draft making trade signing contracts, I always thought that would be compelling as I'm a big sports fan myself. Running a hockey team in an NHL franchise would be a dream role I suppose, but I'm not sure that that opportunity is coming knocking anytime soon so that's maybe one of those more aspirational careers!
Calgary Flames is our NHL team and I'm a pretty diehard fan. I'm pretty sure my son will be too. I still play a little and I've had some ice time with customers over lunchtime. The Canadian cliché is true – we love being on the ice! I can't play as competitively as I used too – you can't be going to a customer meeting missing two front teeth!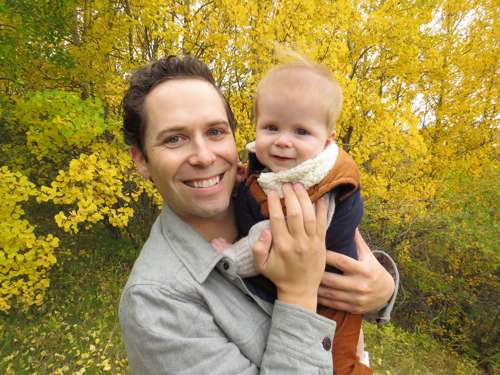 What's your wish list for the next five years?
Well becoming a father earlier this year knocks it out of the park, so to speak. Professionally I want to expand our footprint in the Canadian market and start to introduce some of the new technology being developed. While we're already working in the market, I think it's important that our thought leadership status is recognized too.
One of the challenges though is the sheer vastness of my territory in Canada. However, a lot of the headquarters of pipeline companies are here in Calgary. The legislation is changing here and with new regulations, we need to ensure we are always on top of things. It's great we now have Carin Meyer (regulation compliance specialist) on board to assist with this. Here in Canada, the large provinces have significant decision-making powers, so it's not just looking at the national level either.
Who would you choose as a mentor?
Adrian Kane (Vice President of Business Development, North America) has been invaluable to me at Atmos. While I came with some leak detection experience, he's set me up for your success. People like Adrian and Damien (Ravel, VP of Engineering for Atmos) are like global thought leaders in leak detection they just really have a wealth of knowledge that is second to none, so that's been invaluable for me.
I probably bother him more than he would like, always asking questions, getting advice on different customers and approaches to take, but from a technical standpoint, he's been invaluable to me - especially as I am a remote employee. I think his support has been so important and I wouldn't be set for success without him. I think he's been an outstanding mentor for me and laid the groundwork for me to be able to hit the ground running which is, which is fantastic.
Is there anyone in your life overall you'd say is a mentor? Perhaps in your younger days?
I've had plenty and some good ones. I had a family friend and neighbor who was helpful. My dad was more of an engineering and science guy and I always gravitated more towards the marketing and sales side of the business. The neighbor was the CEO of Smart Technologies but came from a marketing background and I would always bounce ideas off him. He was instrumental in helping me choose my programs for university. His name is Tom Hodson and he had a tremendous impact on my career as a young person because he was a high-level and talented executive but also in the field that I was most interested in.
If you could go back and speak to the 16-year-old self, what would you say,
This is a tough one but quite interesting because it's not something I think about those things a lot. However, with my son arriving it is kind of interesting to do that.  I think more than anything is just be open to change and new challenges. I can't say for certain whether I was not open to those things but keeping that top of mind. I think is very important because you never know what life is going to throw at you, but also where your career might take you.
I've been fortunate, personally, to take a few different career paths and I believe it's served me incredibly well. I think varied experience, saying yes more often, trying new things, all that kind of stuff I think can make you a well-rounded person. I would just say being open to change new challenges and new ideas. That would serve my 16-year-old self well, I would say.
What advice would you give to recent new hires or those looking to join Atmos?
I think I probably have a good perspective on this given I'm relatively new myself. I would say more than anything, speak up and ask questions. Everyone at Atmos has been so helpful to me since I started, relying on their expertise and that has made my transition and getting going easy. You must take it upon yourself to say, 'I don't quite understand that' or could we go over this again or are there some resources I could read or evaluate in my own time. Putting your hand up to join different industry committees or groups is useful, especially for a remote employee like me. I'd also say it's important that you pick up the phone and speak with someone rather than just emailing or using MS Teams. Get to know your colleagues well.
Do you have a motto or a personal mantra?
I guess just being open to different perspectives, different people and different challenges combined with openness and honesty is key for me.
Do you have a favorite blog?
My favorite personal blog is a hockey blog and podcast, it's called 31 Thoughts by Elliot Friedman and is based around like an NHL insider insight and news of the week. It's called 31 Thoughts because there are 31 teams in the NHL! And the writer will talk about 31 separate thoughts about what's going on with the league and I always make time to read that. The podcast is great to listen to if I'm traveling. The two professionally that I rely on the most would be Energy Now, as well as the BOE Report. These two are my daily fix and reference them for the latest news, new projects that are coming on and any regulatory changes
What is your favorite country to visit?
I think my travels to Europe are some of my favorite places. Mainly because of the ages of cities and countries. We're still a relatively new country. Calgary only became a city in the late 1800s and the big skyscraper boom came in the 80s and 90s. I do like Barcelona as a city -  the history, architecture, great food and the beach.