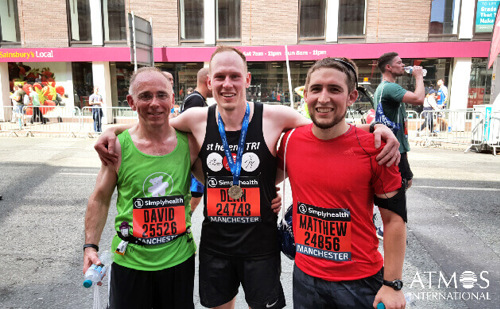 Sunday was a very hot day, but that didn't stop a team of Atmos runners from winning the Mixed Medium Business Category in the Great Manchester Run's half marathon.
Our Half Marathon team battled through the heat and won the Mixed Medium Business Category by one hour thirty-nine minutes with a combined time of 06:57:50. In addition to the six runners in the Half Marathon, the Atmos team also had 12 runners take part in the 10k.
Dean Golba (01:33:39), Dave Bisby (01:44:37), Matthew Kubicki (01:44:46), Irena Hostakova (01:51:57) and Geoff Lewis (01:56:40) ran as the Half Marathon team.
Dean, who now holds the company record for the half marathon, says "In addition to the heat, the biggest challenge for me was nerves. My heart rate was 120bpm before the start! I felt a lot of pressure to perform because I had put so much into the preparation as well as the office rivalry element. I didn't want to let myself or my colleagues down."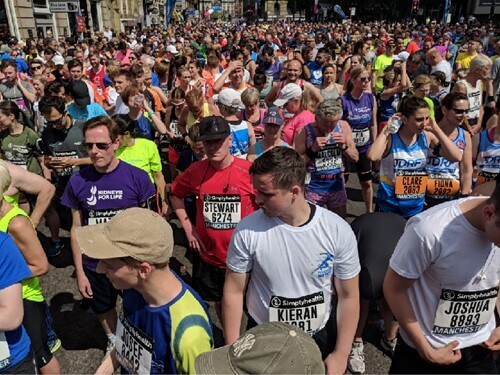 In addition to completing the run, the Atmos runners raised over £1,000 for Royal Manchester Children's Hospital, a charity of great significance for Phil Rawson, one of our longstanding employees, and his family. The Hospital was a vital component of a series of NHS entities that saved the life of his son, Oscar, who took ill when only three days old with viral meningitis.
Phil, who also took part in the 10k, says "It was great to see people from all departments take part in this year's Great Manchester Run, so well done to all who took part and many thanks for everyone's support!"
You can still show your support by donating to the runners' fundraising page at www.justgiving.com/atmosrunners2018.