Posted Oct 22, 2018
As we all know, aviation safety is of utmost importance. The airline industry has achieved and maintained high standards in safety by learning from near misses and incidents over the years. One important aspect of aviation safety involves jet fuel and the hydrant system used to fuel aircraft.
To ensure the hydrant system is tight and leak free, most airports perform leak tests in the quiet hours of the night when there are no refueling requirements. The scheduling of these tests is currently a popular debate as to whether the frequency should be daily, weekly, monthly or annually. To ensure a leak is detected quickly, Atmos recommends performing the routine tests weekly, if not daily, where possible.
The international aviation standards EI1540, EI1560, and JIG 2, require a leak detection system's performance to meet the minimum detectable leak rate of 0.04 liter/hour/m³. Recently at a large international airport, the Atmos Tightness Monitor detected a small leak of fewer than 1.5 liters/hour, which is equivalent to 0.005 liter/hour/m³. The leak was nearly a tenth of the minimum required sensitivity.
Following the detection of the leak, our client located and repaired the issue immediately. The speed of response is a testament to the client's strict daily testing schedule which ensured that disruption to operations was minimized.
I am very pleased to learn that our tightness monitoring system was able to detect such a small leak. It is also a pleasure for me to share the news that the Atmos Portable Tightness Monitor product, a portable version of the system that detected the leak, has been certified to UL61010-1/CSA, ANSI/UL 1203 and CSA-C22.2 safety standards for applications to North American projects. The Atmos Portable Tightness Monitor makes it possible for any airport, even those without existing pressure meters, to perform leak tests within hours. It is a cost-effective alternative to fixed installations.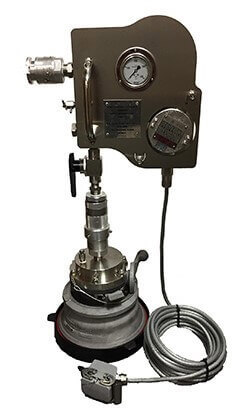 Atmos Portable Tightness Monitor North American Version
Soon, the Atmos Training Portal will be available for our clients to learn how to set up the Atmos Portable Tightness Monitor and how to conduct leak tests with the system at an airport. We look forward to helping you in your hydrant system safety management