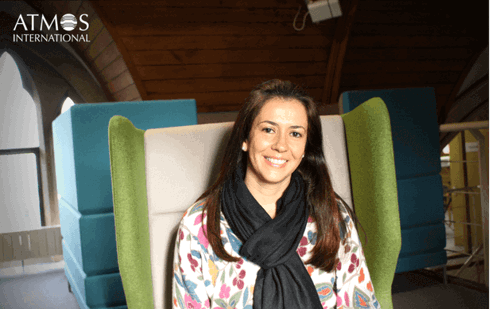 Role: Project Manager
Time at Atmos: Since May 2003
Location: Manchester, UK
Background:
Born and raised in Bogota, Colombia. Joanna attended an international school in Bogota. Her mum is Colombian, her dad is British, so learning both English and Spanish was a priority in her family. Once she graduated from secondary school, Joanna moved to the UK to go to University. She obtained a master's degree in Mechanical Engineering from the University of Surrey and, following her professional development at Atmos, she is now a Chartered Engineer (MEng CEng MIMechE).
While undertaking her industrial placement as a student at a Pipelines Operations Center in London, Joanna discovered the Atmos Pipe technology from the end-user side, sparking her interest in Atmos International. When she finished her degree, Joanna moved to Manchester in 2003 and joined Atmos as a Project Engineer. Back then she engineered several leak detection systems for customers she is still very fond of and, a decade later, she has been fortunate to be given the opportunity to work with some of the same customers again as the Project Manager delivering the latest Atmos technology with her team of engineers.
Day in the life
Every day is different... Today, for example, began at 4.30 am, waking up to her 4-year old (or her "little monster" as she calls him) crying for her, luckily this does not happen very often. After calming him down and not being able to get back to sleep, the crazy daily routine began, a family with two working parents starting the day. Once at work, Joanna catches up with her team and focuses immediately on the most urgent project issues. Joanna's main focus and motivation are always clients. 100% customer-oriented, Joanna and her team hold regular web meetings with their different customers and work closely with them to ensure their satisfaction.
Joanna also tries to allocate some of her daily time to the implementation of the company's new ERP system, assisting with the configuration and testing of the project job costing module. Joanna finds this project very enjoyable and has helped her develop a better understanding of different areas of the business.
Favorite thing about Atmos:
"Atmos feels like my extended family." She moved from Colombia, leaving family behind, and has been in Manchester for the past 15 years. She says she has been given great professional opportunities and has been very fortunate to have had very good mentors along the way. "Even when times have been challenging, I have always felt supported and encouraged and I feel that the company genuinely cares about my wellbeing." She says people in Atmos caring about you makes the difference.
Fun fact:
Joanna was born and raised in Colombia and married an English man. She comes from a big family, so it was easier to drag his family to Colombia for the wedding, or crazy Colombian wedding as she says. She is the mum of a 4-year-old little boy who communicates in Spanglish. Her father-in-law is also now fluent in Spanglish.