Posted Mar 29, 2017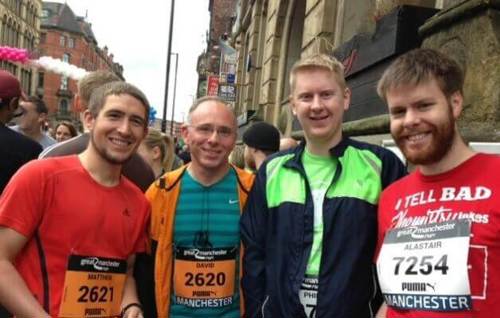 It's that time of year again! 11 engineers from Atmos UK are taking part in this year's Great Manchester Run 10K. Seven more are even joined by team members from our USA office to run the half marathon, a new addition to the event in 2017.
The route for 'Manchester's newest half marathon' takes runners past both the Manchester United, and Manchester City football grounds, as well as the Imperial War Museum North, and the Town Hall.
Amazing Atmos achievements
Atmos UK has been taking part in the 10K for more than a decade, with Principal Engineer Dave Bisby competing in 11 consecutive races. As the company continues to grow, we have gained more and more star runners:
2011 - Development Manager James Munro set the yet unbroken Atmos 10K record of 41 minutes 47 seconds
2015 - Atmos won the fastest mixed team of the year, finishing seven minutes ahead of the next small company
2016 - Atmos' mixed team beat their own personal best by two seconds
2017 - Atmos joins the half marathon
Learn more about the Simplyhealth Great Manchester Run here.
Donate today!
Last year we ran to raise money for Manchester Children's Hospital, whose dedicated staff saved the life of an Atmos employee's new-born child. Donations totaled at £1713, a new record for the company! This Sunday 28 May 2017, we'll be running to raise money for The Cystic Fibrosis Trust.
What is the Cystic Fibrosis Trust?
The Cystic Fibrosis Trust is the only UK-wide charity 'dedicated to fighting for a life unlimited by cystic fibrosis (CF)'. Their mission is to provide research into medical advancements that would mean people born with CF could live uninhibited, healthy lives. They also fight for best practice in clinical care, and provide support to people with CF and their families.