Posted Apr 26, 2018
With Spring well underway, a record number of Atmos athletes have committed to run in the Great Manchester Run on May 20th! Not only does this provide some healthy competition within the office, but it also helps support and raise money for charity.
Over a decade of Greater Manchester Run
Atmos UK has participated in the Great Manchester Run for over a decade, and our number of star runners continues to increase as the company grows, including a company record of 19 this year – seven in the Half Marathon and 12 in the 10k.
The routes for both the Great Manchester Run 10k and Half Marathon start near Piccadilly Gardens and pass both the iconic Old Trafford football grounds and the award-winning Imperial War Museum. The 10k re-enters the city center and finishes near Beetham Tower, while the Half Marathon goes all the way to the Etihad Stadium.
Raising money for Royal Manchester Children's Hospital
This year, the team are raising money for Team Humphrey, Royal Manchester Children's Hospital Charity, as it has great significance for Phil Rawson, one of our longstanding employees, and his family. The Hospital was a vital component of a series of NHS entities that saved the life of Oscar who took ill when only three days old with viral meningitis.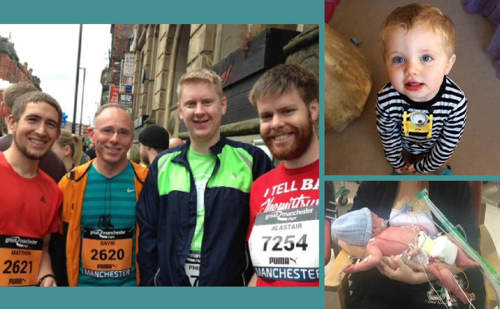 Oscar spent six days in the intensive care unit at RMCH on a ventilator. At one point things were far from hopeful, but we're happy to say that two years on, Oscar is a happy, healthy little boy who is none the wiser to what he suffered in the first three months of his life.
Without the world-class care Oscar received from RMCH, he would not be here today, so we want to thank them in any way we can. We ask that you contribute what you can to support our runners and help RMCH continue to provide the best possible care to children.
Supporting us to thank RMCH for saving Oscar
Help support our team by donating here.
Learn more about the Simplyhealth Great Manchester Run here.