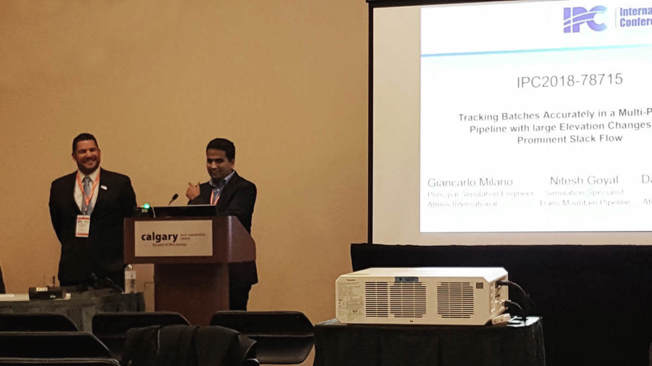 The Joint presentation by Nitesh Goyal (right) and Giancarlo Milano (left) at IPC 2018
This year, Western Canada had an early start to winter with its first snowfall on September 12. Despite the cold weather in Calgary, more than 1,300 delegates attended the International Pipeline Conference and Exposition.
The conference featured over 300 technical papers and the Exposition included over 230 companies exhibiting in the Telus Convention Centre in the city center.
The theme this year was "Building the Future Now." Peter Tertzakian, the executive director of ARC Energy Research Institute, gave a keynote speech. He shared a global oil demand chart with the audience that showed demand would continue to grow until 2025 and then it will start declining. By 2040, total demand is expected to remain above 80 MMB/d. As the safest form of transport, the pipeline industry needs to continue to invest in technology to meet the increasing demand and the heightened expectations of the general public.
While the Conference covered a variety of pipeline technology-related subjects, the hot topics were pipeline inspection, integrity management, and leak detection. Our client, Nitesh Goyal from Trans Mountain Corporation, co-presented a paper with our Principal Engineer, Giancarlo Milano, on:
"Tracking Batches Accurately in a Multi-product Pipeline with Large Elevation Changes and Prominent Slack Flow"
Together, they demonstrated what challenges we could overcome by working together as partners. Sometimes, the example pipeline could be draining for over three hours, reducing the volume of product in the pipeline by up to 4,000 m3. This draining operation causes slack flow in sections that are longer than 15 KM. Even under this type of operating scenario, the system remains reliable and accurate. For the 1,200 KM long pipeline in their example, the maximum error is only 10 minutes in the estimated time of arrival of a batch.
Atmos has been exhibiting at IPC for more than 16 years. It is a great place for us to meet our clients and showcase our latest development in pipeline leak detection, theft detection, hydraulic simulation, operator training, batch tracking, pig tracking, and leak detection sensors.
We would like to thank all of our clients who visited us at our booth, and we look forward to seeing you again soon.