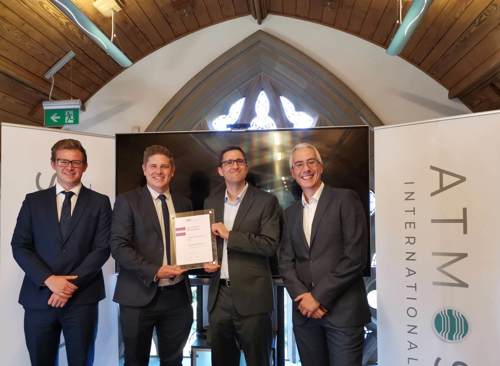 Atmos International has created new opportunities for its colleagues by signing up to be an Enterprise Partner with the Institution of Engineering and Technology (IET). The new partnership will enable Atmos engineers to become professionally recognized in their discipline as well as provide ongoing continuous development. The program also allows Atmos to showcase its work to the IET network.
Speaking about the partnership, Phil Edwards, Technical Manager for Atmos said: "As individuals, we all recognize the importance of professional qualifications, not only in our own development but providing value to our customers and the company. The Enterprise Partnership takes us to the next level and opens up further opportunities and advancement for the company as a whole. We're looking forward to engaging with the IET and taking an active role in our continuing development."
Matthew Barber, Senior Partnership Account Manager for the IET said: "We're delighted to welcome Atmos International to our Enterprise Partner community. Our goal is to provide a neutral platform that allows Atmos to engage across our key engineering contacts within our Corporate, Academic and MOD partners. We hope that Atmos will benefit from the variety of opportunities that will now be presented to them, starting with supporting engineers and technicians to becoming professionally registered.