What's the future of pipeline leak detection, theft detection and simulation software?
Last month Atmos International held a user conference to share our latest innovations in pipeline leak detection, theft detection and simulation software. We brought together our clients from across the world to reveal the latest technologies we'd been working on in a series of presentations delivered by our in-house subject matter experts.
In this blog, we've summarized 16 of the key takeaways, including:
What's new in Atmos Pipe
Atmos Pipe product expert Dave Bisby started the technical presentation on the Thursday with a breakdown of the latest improvements to Atmos Pipe, which include:
New autotuning features
Rupture module in compliance to CFR195.417 ("Notification of potential rupture")
Atmos Data Manager acting as an open platform communications unified architecture (OPC UA) structure
The additional feature of Kappa 3 to detect smaller leaks and thefts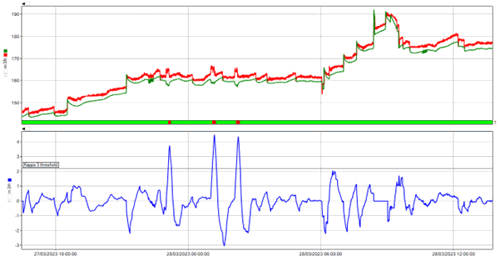 Figure 1: An example of how the Kappa 3 feature facilitates multiple leak and theft alarms. In this case, Kappa 3's threshold of 2.2m3/h alarmed on multiple theft events, equivalent to 1.4% of flow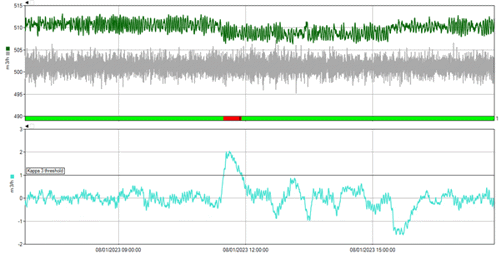 Figure 2: Kappa 3 alarming on a 1 m3/h theft event, equivalent to 0.2% of flow
Since Atmos Pipe was introduced as the first statistical corrected volume balance system in 1995, we've continued to innovate our leak detection algorithms so that we constantly develop solutions in line with the market's needs.
Learn more about Atmos Pipe
Download the brochure Watch the video
Development update for the Atmos SIM hydraulic simulation software
Atmos SIM Product Manager Glen Tyson and Software Development Manager Dave Lobban co-presented many new features of Atmos SIM.
With its simplified logic, there is now reduced time from starting a pipeline model to generating accurate results, troubleshooting is simpler on pipelines in steady state and Atmos SIM is more robust and able to solve an even greater multitude of problems.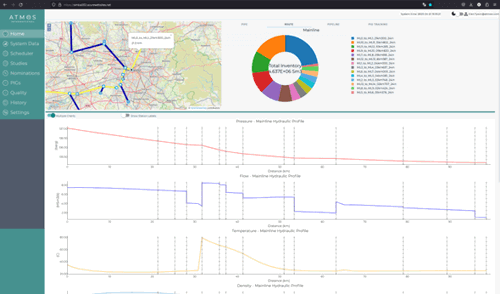 Figure 3: User interface providing pressure, flow and temperature profile along a pipeline segment and inventory (linepack) for each segment
Learn more about Atmos SIM's hydraulic simulation capabilities
Read about Atmos SIM Offline Discover the full Atmos SIM Suite
Leaks detected and alarm analysis
Our Senior Engineer Irena Flynn provided an update on the number of leaks detected recently as a result of our suite of leak detection solutions (Figure 4). She also shared some data trends to show the effect of leaks and thefts on flow and pressure and how the leak detection systems responded.
Figure 4: Leaks and thefts detected in recent years, totaling 2,199
Read about our solutions
Leak detection solutions Theft detection solutions
Pipeline leak detection for multiphase pipelines
Presenting on three case studies, including two multiphase pipelines with separators, an offshore multiphase pipeline and an onshore multiphase pipeline, R&D Director Andy Hoffman was able to conclude from his research that the key to multiphase pipeline leak detection is hardware solutions. With the latest development in leak detection hardware, it is feasible to detect leaks as small as ¼ in on multiphase pipelines.
Learn more about our multiphase solutions
Download the technical paper Read the blog
Training simulators for operator training
Technical Manager Phil Edwards discussed how the trainer module in Atmos SIM can be used to provide controllers with a safe learning environment to experience pipeline behaviors when expected and unexpected events occur. It allows both new and experienced controllers to learn about their pipelines under many different operating scenarios without having to wait for a real-life event to occur.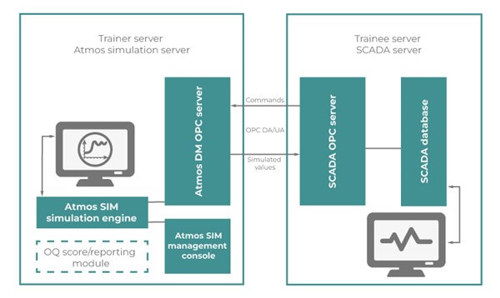 Figure 5: Atmos Trainer system architecture
Learn more
Discover Atmos Trainer Simulation solutions
Maintaining a leak detection system for optimal performance
While discussing the factors that can impact a leak detection system's performance, Principal Engineer Joe Kelly made the following summaries:
People are key to effective leak detection, with ownership and usage, the application of corrective action through timely change control and regular interaction being important considerations
System monitoring and maintenance of a leak detection system should involve regular interaction with systems, regular reporting on performance and frequent updates
Ownership of a leak detection system depends on regular interaction with Atmos, timely responses to issues or questions and ownership or efficient management of the change process
Figure 6: Principal Engineer Joe Kelly presenting on maintaining a leak detection system for optimal performance
Learn more
Leak detection solutions Maintenance solutions
Progress and challenges in pipeline theft detection
Sales and Senior Research Engineer Harry Smith discussed the ongoing problem of global pipeline theft which spans multiple regions and includes a variety of techniques.
He discussed two main theft techniques, the first being the "try and remain hidden" approach which is typically more discreet and involves the slow opening and closing of valves to steal product slowly over longer time periods, typically seen in the UK and mainland Europe.
Commonly seen in Latin America and Africa is the "slash and grab approach", which Harry discussed in relation to angle grinding pipelines, poor installations and larger diameter taps.
While pipeline theft continues to be a global problem and thieves' techniques are continually evolving, Harry shed light on some of the thefts we've detected across the world. For the total amount of thefts detected per region, see Figure 7.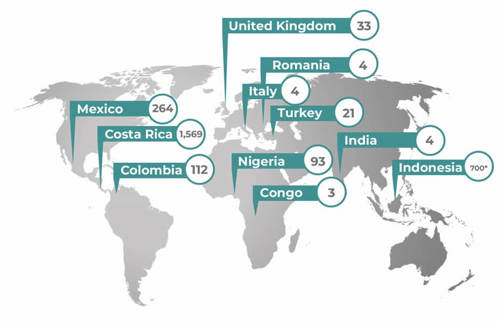 Figure 7: Atmos results in pipeline theft detection and location. This data has been collated by Atmos International based on theft reporting via in-house systems and customer reports. Data correct as of June 8, 2023.
*Atmos International helped dramatically reduce the theft problem in Indonesia, reducing the number of tapping points from over 700 to zero.
Learn more about our global success overcoming pipeline theft
Watch the video Download the ebook
How to replace CPM pipeline leak detection systems effectively
Sharing lessons learned from a real life computational pipeline monitoring (CPM) replacement project for a US pipeline company, Principal Engineer Kirsty McNeil discussed what made the project successful, such as:
Involving stakeholders and selecting the right partners can determine if a CPM replacement is done in a timely manner
Local and experienced teams are needed to deliver on time
Long term goals should be considered during the different phases of the project
Design of the CPM should consider all potential changes in the future
System upgrades and continuous improvement should be included during the project to use latest technologies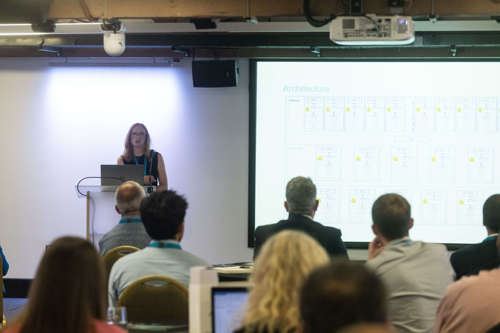 Figure 8: Principal Engineer Kirsty McNeil presenting on how to replace CPM pipeline leak detection systems effectively
Read about our other successful projects
Manual tuning of pipeline models
Chief Simulation Scientist Jason Modisette's presentation provided a universal procedure for manually tuning a pipeline simulation model to match SCADA data for gas and liquid pipelines, which included tuning density, pipe diameter and efficiency, roughness, temperature, viscosity and more.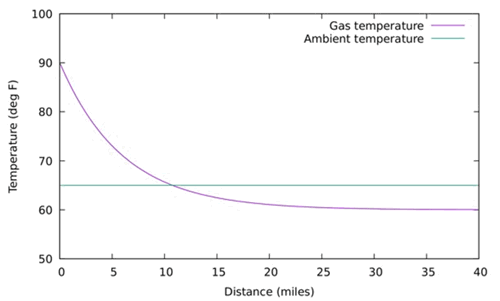 Figure 9: Fluid temperature can be adjusted in steady state by adjusting ambient temperature or ambient thermal conductivity
Learn more about pipeline simulation
Read the book chapter breakdowns Discover Atmos Simulation Suite
Multi-method leak and theft detection
With a focus on the negative pressure wave, intelligent flow balance, pressure distribution analysis and dynamic model analysis methods, Harry Smith's presentation on multi-method leak and theft detection discussed how hardware and software solutions like Atmos Eclipse, Acoustic Sensing Pig (ASP), Atmos Wave Flow and its data acquisition unit (AWAS) have detected leaks in the field for our customers.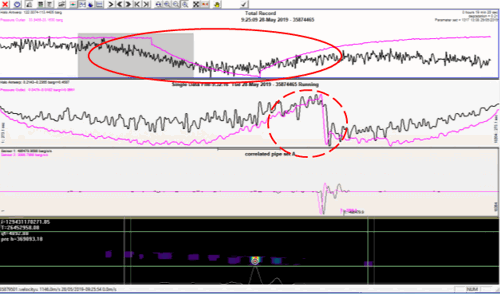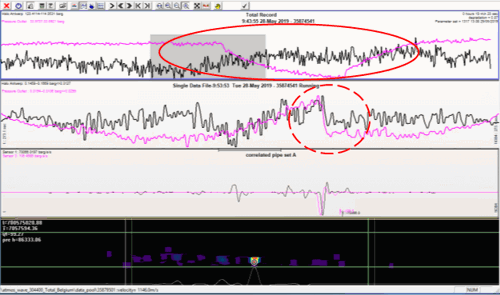 Figure 10: Leaks being detected on a customer's pipeline in Belgium
Learn more about our solutions
Leak detection Theft detection
Modeling hydrogen pipelines
In Senior Simulation Consultant Garry Hanmer's presentation on using Atmos SIM to model hydrogen pipelines, he concluded that the GERG 2004 and AGA 8 equations performed accurately and that the modeling of hydrogen and hydrogen blends can help customers mitigate risks and optimize pipeline capacity utilization when hydrogen is introduced to natural gas pipelines.

Figure 11: Pressure calculated (red) by Atmos SIM compared with pressure measured (green) over 4 weeks on a hydrogen network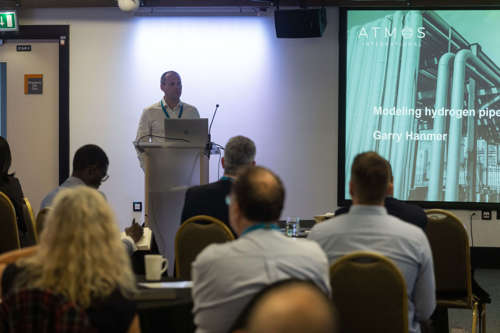 Figure 12: Senior Simulation Consultant Garry Hanmer presenting on using real time systems to model hydrogen pipelines
Learn more
Read the technical paper Our work in the gas industry
Benefits of accurate batch tracking for crude and multi-product pipelines
Senior Principal Engineer Derek Cousins discussed batch tracking in this presentation and how Atmos Batch can provide up to the minute batch volume and accurate location of products in the pipeline in real-time.
He concluded by presenting the following benefits that can be achieved with accurate batch tracking:
Automatic interface detection
Position based on totalizers, ETAs on current flow
Interface tracking, interface growth estimates
Pipeline volume update (manually/by various parameters/slack)
Correction report to improve pipeline volume estimate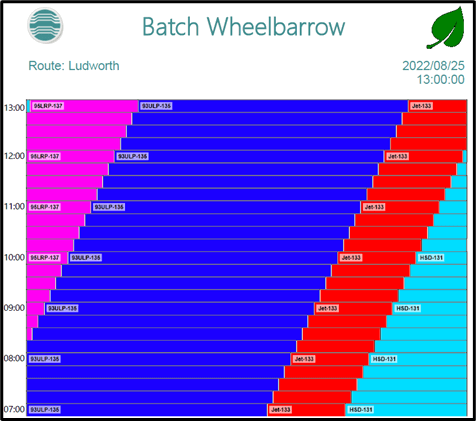 Figure 13: Atmos Batch showing the progress of batches through the pipeline
Learn more about the benefits of Atmos Batch
How real-time simulation supports gas pipeline operations
Atmos SIM Product Manager Glen Tyson showed how real-time simulation could help controllers run their pipelines safely and cost effectively and how the simulation software is no longer just a tool for a specialized simulation experts.
Glen also discussed how the various modules within Atmos SIM, such as composition/gas quality tracking, look-ahead modeling and instrumentation analysis, can improve operations planning and efficiency and help pipeline companies move towards Net Zero.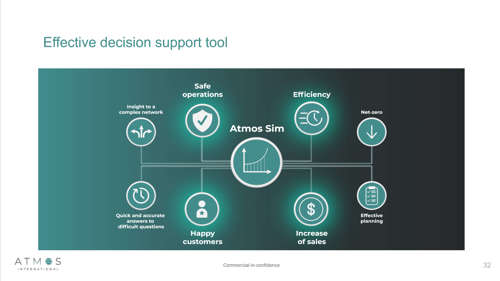 Figure 14: The benefits of Atmos SIM
Learn more about Atmos SIM Online
Atmos Simulation Suite Read the blog
Advancements in pipeline leak technologies using IOT and the cloud
R&D Director Andy Hoffman covered the benefits of the Edge processing of negative pressure wave leak detection, with a focus on the water industry, to provide fast and smart alerts for leaks.
Andy also discussed high frequency 60 Hz data to generate superior accuracy and sensitivity, with the overall goal of creating a 24/7 leak detection system that detects new and existing leaks by leveraging IOT and the cloud.
Learn more
Leak detection solutions Our work in the water industry
Gas pipeline optimization using a digital twin and machine learning
CEO and founder Jun Zhang introduced Atmos Intelligent Optimizer (AIO), Atmos' latest development in simulation and optimization.
While discussing AIO's architecture, outputs, validation and presenting a demo, Jun explained how gas and liquid pipeline companies will be able to improve energy efficiency, move towards Smart Networks and save millions of dollars per year.
What's in the future?
While there exist a range of challenges to overcome in pipeline leaks and theft detection and simulation, here's a summary of how the future of pipeline solutions will look:
For multiphase pipelines, the key driver of leak detection will be different solutions to suit the varying nature of each multiphase pipeline
Overcoming the challenges of global pipeline theft will continue to rely on a multimethod approach to theft detection
Accurate batch tracking will depend on automatic interface detection and tracking with correction reporting
Pipeline simulation's capacity for collaboration will continuously improve for users across departments and teams to make operators' jobs easier
The machine learning in Atmos Intelligence Optimizer (AIO) will be able to help gas and liquid pipeline operators increase energy efficiency, move towards Smart Networks.