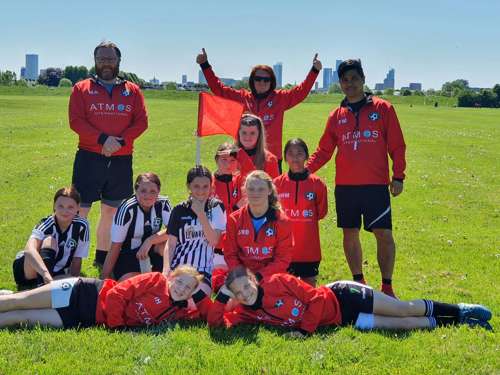 Atmos International (Atmos) has lent its support to a girls' grassroots football team with the sponsorship of their training kits. The team of over thirty players is split into two (development and performance) and are named Thunderstorms and Tornados. They are a part of Haslingden Girls and Ladies Football Club (HGLFC), based in the North West of England.
Established in 1996, HGLFC was exclusively formed for women and girls – rather than as an offshoot of a men's club. Games are played weekly with teams competing in the Bolton, Bury and District Football League.
Girls' grassroots football has become independent from the male sport and has grown considerably in the last decade within the UK. It gives young girls the chance to become part of a team, gain confidence, help them to socialize and gives girls from different backgrounds the opportunity to meet and participate in sport.
Freddy Mott, Aviation Engineer at Atmos and whose daughter plays for the club, comments: "Atmos' sponsorship has enabled the team to have training tops which are professional and unifies the players. It makes such a difference on and off the pitch."
He added: " It gives my daughter a sense of pride knowing that her father's employer can sponsor the team. I know Atmos believes in supporting its colleagues and the communities where they live and work and that is something very rewarding to me."
Atmos also sponsors a boy's junior grassroots team, Bramhall North 75 Eagles and a Little League team.