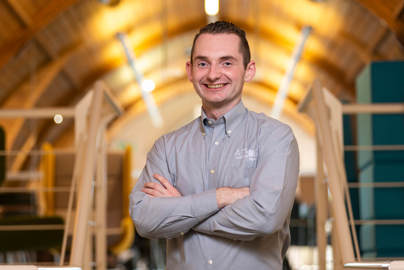 Harry Smith holds a dual position at Atmos International (Atmos) as a Sales Engineer for the UK and Europe and a Senior Research Engineer for some of Atmos' key services. Discover how he joined Atmos and what keeps him motivated in his answers to questions about:
What was your journey to Atmos?
Unlike some of my colleagues, my degree was in Geography. When I graduated, I'd taken a temporary job at a technology retailer when one day Andy Hoffman, R&D Director at Atmos, came into the store to buy some laptops. We had a chat and by the end of it he'd asked me to come in for an interview to work at Atmos.
I went in and did an interview for a Project Engineer role and got offered the opportunity. In 2014, I started as a Support Engineer, helping with project work and ongoing trials and then I moved into the R&D team as a Research Engineer.
When the sales team expanded, I supported them with sales opportunities from a technical point of view and then I got the opportunity to become product expert for the Atmos Wave Flow and Atmos Theft Net services, which was a great moment.
In 2017, I took responsibility for the UK sales region, so my position became a hybrid one. I was still doing research but I also got the chance to do sales.
In 2020, I got the opportunity to take on more territories. Now I cover a total of 18 countries around the world.
What is your biggest achievement to date – personal or professional?
Personal
Climbing Kilimanjaro this year was a bucket list moment. You don't realize how hard it is getting to the top! Completing the Three Peaks Challenge was another proud achievement of mine.
Professional
Progressing quickly at Atmos has been my greatest achievement and I'm proud of being awarded for outstanding achievement for my work in 2022.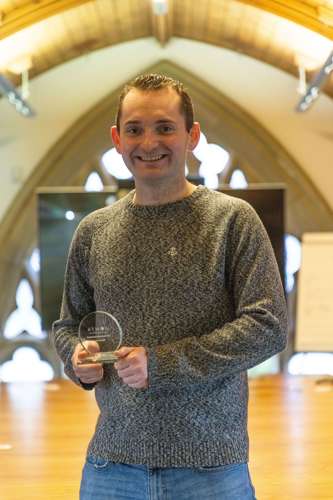 How would you describe your job and what are you currently working on?
With my role being hybrid, it's split between research and sales. One of the first priorities will always be developing new sales opportunities, whether that's in my existing territories or working to develop new areas. For example, a focus market for leak detection is water now so I'm working quite closely with Martin Duff, our Business Development Director for water.
At the same time, I have my R&D hat on, so I'll be arranging trials to test new products and move new innovations forward. I've been doing a lot of work with our colleagues in Canada for multiphase pipelines and we've been testing an acoustic sensing pig as well.
I also work quite closely with sales and the marketing team on new content, collateral and presentations, especially when we've got conferences and events coming up.
The best way to describe my job on a daily basis is varied. That's one of the good things about Atmos, it's always changing.
What three words describe your role at Atmos?
Interesting
I cover 18 countries so no day is the same!
Varied
I'm not just customer-facing on the sales side, but I'm also seeing what new things can be pushed forward on the R&D side to help our customers.
Challenging
We're moving into different areas while the whole energy market is changing. As a business, we're constantly adapting and not relying solely on oil and gas solutions but moving into water, aviation and mining too.
If you could switch jobs with someone, who would it be?
Over the past nine years I've had the chance to experience different parts of the company, from starting as a Support Engineer to now being a Sales and Senior Research Engineer.
What I'm doing now is what I love to do and I don't think I'd change it. I get all the interesting parts like selling and meeting customers and the chance to see new solutions being developed and moving forward.
What would you like to achieve in the next five years?
Continuing to grow the business and hitting sales targets. On a different level it'd be good to develop new markets and see Atmos growing in other areas.
It'd be great to say in the next five years that we have been responsible for shaping the leak detection technology for the water industry. Also, to continue our developments in providing solutions for multiphase pipelines too.
What are your biggest professional challenges?
Meeting customer needs is the priority, but there are other challenges occurring at the same time like the whole energy market changing and the ongoing Ukrainian crisis, so now we're noticing massive energy transitions so we're trying to move into different areas.
The greatest challenge involves adapting to whatever's going on around us, which is why we're moving into hydrogen and carbon capture and storage.
If you could choose anyone, who would you pick as your mentor?
When I first started as a Support Engineer, Laura Morison, Gary Cheung and Glen Tyson were fantastic mentors. On a sales level, I've learned so much from Daniel Short, Atmos' Senior VP Commercial (Sales) and David Dingley, who's now retired.
If you could go back and speak with the 16-year-old you, what would you tell yourself?
The decisions you're going to make along the way will be the right ones. The position you end up in will be a great one, you'll have a job you enjoy that lets you travel the world.
What do you like most about your job?
Before joining Atmos, I didn't know this whole world existed. We all knew about oil and gas, but I did not know the level of importance pipelines had, so it's been interesting to find out.
In my role I also get to travel a lot and it's often to countries that you might not normally visit as a tourist. I also get to see these countries with great colleagues from R&D, Sales and Marketing.
What advice would you give to recent new entrants?
Everyone's very open at Atmos, so the main thing you can do is ask questions. A lot of the stuff you do becomes easier if you ask those questions in enough time. We're using complex software and products, so I would say the biggest thing is don't be afraid to ask any question.
The more you ask, the more you'll get answered and that's how I learned, by asking.
What is your motto or personal mantra?
Working hard pays off.
What's your favorite blog or website you follow?
Workwise there are quite a few. LinkedIn's really useful and so is Oil price. Both put a lot together about what's going on around the world so you get a good idea about what's happening.
Pipeline Technology Journal is also good at bringing in up to date news, especially around pipeline projects and the Energy Industries Council's data stream is useful too. These are the tools I commonly use on a daily basis to get a good understanding of what's going on.
Now that I'm working with Martin on the water side of the business there's a lot of water information I'm taking in too.
What is your favorite place to visit?
When the R&D Director first hired me he said I'd get the chance to travel the world and that has definitely been one of the many benefits of working at Atmos.
I've had the opportunity to visit Iran twice and I did a massive project in Egypt, but my favorite places have been Brazil, Colombia and Costa Rica. I've also been able to visit parts of Europe and Asia.
A personal favorite though is Tanzania which I visited in my free time when I climbed Kilimanjaro. It's hard narrowing it down to one favorite place to visit because I love traveling and I've been lucky both professionally and personally to have got so many opportunities to travel.