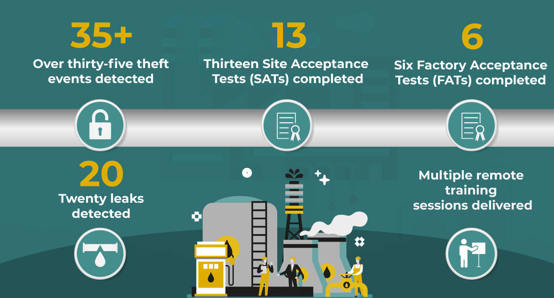 Key pipeline leak detection updates
During the second quarter we've continued to detect theft events and leaks accurately and reliably. We've also been announced in three of the Best Companies Q2 2022 lists.
Quarterly achievements
Over thirty-five theft events detected
Twenty leaks detected
Thirteen Site Acceptance Tests (SATs) completed
Six Factory Acceptance Tests (FATs) completed
Multiple remote training sessions delivered
Here are some of the handpicked stories from the second quarter of 2022 to share with you how we've been supporting our customers globally.
Upgrading leak detection systems with Atmos Eclipse
One customer has opted to use Atmos Eclipse to upgrade their existing Atmos Wave Flow leak detection system (LDS). Using this type of hardware can improve the sensitivity of your LDS. Due to the inbuilt communications, it's particularly suitable and adds another layer of reliability to pipelines that are in remote and high consequence areas (HCAs).
With its clamp-on design, Atmos Eclipse offers the ability to:
Rapidly implement a non-intrusive solution
View, analyze and respond to data
Support working from anywhere
During the Site Integration Test (SIT), the Atmos Eclipse units provided accurate flow and pressure readings. We compared them to nearby intrusive meters as a benchmark to demonstrate this accuracy.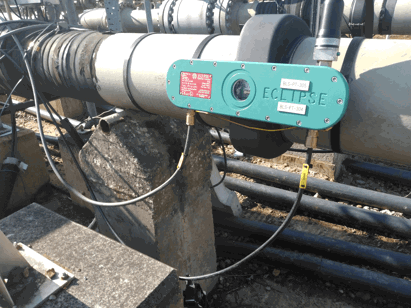 Figure 1: Atmos Eclipse installed on a customer's pipeline
Rupture detected on multi-product pipeline
Atmos Rupture Detector and Atmos Pipe detected a rupture for a pipeline operator in the US this quarter. The customer estimated that up to 800 barrels were on the ground within 10 minutes, demonstrating how serious this big leak could've been without quick detection.
The multi-product pipeline carrying batched refined commodities, uses Atmos Rupture Detector which caught the leak in 2 scans (20 seconds) and Atmos Pipe which caught the leak in 9 scans (90 seconds).

Figure 2: Atmos Rupture Detector depicts the leak

Figure 3: Atmos Pipe depicts the leak
Three separate tapping points found using Atmos Theft Net
A customer in Costa Rica has successfully detected and located three tapping points using Atmos Theft Net and Atmos Wave. Once the thieves had finished taking product out of one of the pipeline segments, they wrapped the tapping point in a sock, resulting in the loss of a large amount of product.
Atmos Theft Net is a service where experienced engineers trained in the latest theft detection techniques analyze your data in detail to locate tapping points. This human element adds another layer of accuracy to a software LDS like Atmos Wave, helping to increase the sensitivity of your overall theft detection system, without the distraction of false alarms. Using additional techniques like this helps to form a multi-method approach.
Two of the tapping points were less than 150 m away from the location estimated by Atmo Wave and one of them was found only 2 m away from the location estimate given by the LDS. The customer was very impressed by the accuracy of this. A quick and reliable location estimate means that tapping points for theft can be found with efficiency, helping to prevent future theft events and limiting the product that is released into the environment.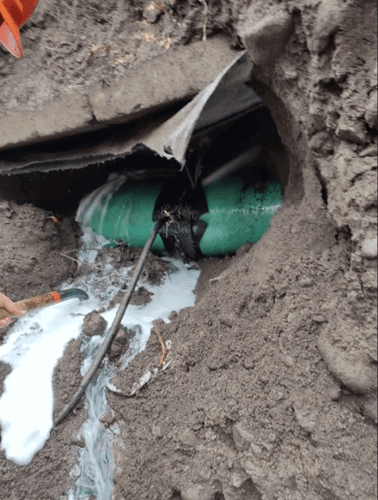 Figure 4: A tapping point for theft with product leaking out of the pipeline
Learn more about our pipeline leak detection solutions
Discover our range of solutions for leak and theft detection today or get in touch.