From offline to online: answering a range of questions with pipeline simulation
With pipeline simulation software being increasingly used during both the design and operational phases of a pipeline's lifespan, it's no surprise that a simulation suite can help engineers answer important questions and make informed decisions.
The versatility of Atmos Simulation (SIM) Suite means the same underlying pipeline model can simulate different scenarios in three categories of applications: offline, online and lookaheads, Trainer. For pipeline networks contending with a range of challenges, the installation of a simulation suite can alleviate pipeline operators' concerns. In this article, Atmos International's (Atmos) CEO and Founder Jun Zhang discusses how Atmos SIM can overcome a range of challenges specific to gas and liquid pipelines operating in Latin America, including:
1. Tracking and maintaining product quality to ensure customer deliveries are on-spec
In Latin America, it's common for operators to deal with multiproduct pipeline operations, with many types of products going to different locations with varying ownerships. For example, mining and slurry operations form a significant part of the Latin American economy, with the region expected to play a significant role in the rising demand for lithium.1
In this region a slurry pipeline transports a mixture of materials suspended in water or oil, such as sand, clay, coal and minerals which can include copper concentrate, iron concentrate, zinc concentrate and more.2 Ensuring the product isn't contaminated and is transported to the correct location is vital to operators working in the control room.
Batch tracking software enables pipeline operators to track products in a multiproduct pipeline, monitor the progress of products, run an efficient and cost-effective pipeline and track product quality. Atmos Batch is an example of this solution in action (see Figure 1).
Atmos Batch is a module within Atmos SIM and uses a human machine interface (HMI) to provide up to the minute batch volume and accurate location of products in the pipeline in real-time (see Figure 2). This can support Latin American pipeline operators in knowing the head and tail location of every batch and its estimated time of arrival (ETA).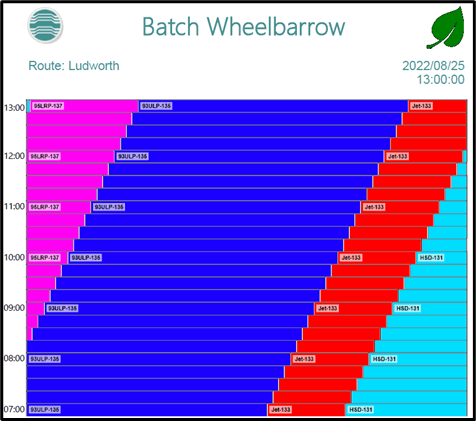 Figure 1: Atmos Batch showing the progress of 95 octane petrol, 93 octane petrol, jet-a1 fuel and high-speed diesel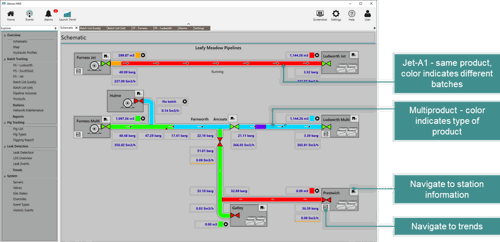 Figure 2: Atmos Batch user interface with multiple pipelines
2. Supporting the energy transition
Together with the Caribbean, Latin America is responsible for eight percent of global greenhouse gas emissions,3 so the transition to cleaner energy will contribute to emission reduction and the Net Zero goal. Pipeline simulation software can support this transition on a deeper level.
The introduction of a hydrogen economy was a common theme in COP27 discussions, so pipeline companies in Latin America need to prepare for the transportation of hydrogen and hydrogen blends via their pipelines.4
While hydrogen has a number of uses as a cleaner fuel, there are a range of problems operators will need to contend with when it's introduced to pipelines:
The molecular makeup of hydrogen is smaller than natural gas molecules, so it's easier for hydrogen to leak
Hydrogen molecules can be absorbed into pipeline cracks, causing hydrogen embrittlement
Hydrogen could become an indirect greenhouse gas if a leak occurs, affecting the composition of the atmosphere and negatively impacting air quality
Lack of knowledge on hydrogen and hydrogen blend transportation because it is an area which isn't yet fully established
Pipeline simulation can help Latin American pipeline companies prepare for the introduction of hydrogen to their existing pipeline infrastructure. Atmos SIM enables operators to model all aspects of the pipeline network so operators have a better understanding of how the network will cope with different concentrations of hydrogen (Figure 3).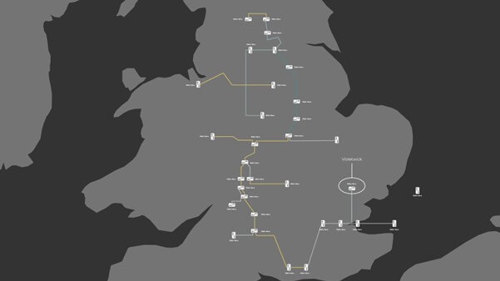 Figure 3: A gas transmission network demonstrating restricted capacity at supply locations when a large amount of hydrogen is injected
Also, Atmos SIM Online can detect and locate leaks reliably, which is especially important given hydrogen embrittlement is a factor to consider in the energy transition. Atmos SIM Leak Detection can continuously calculate the volume balance in a pipeline which is statistically analyzed by the sequential probability ratio test to determine the ratio of leak probability over no-leak probability.
Supporting the energy transition to hydrogen is a challenge that can also be overcome in parallel with the challenge of operator training.
3. Operator training
Many pipeline companies are bound by regulations to demonstrate their pipeline operators are adequately trained to recognize and react to abnormal operating conditions, with many regulators requiring a record of trainings delivered to pipeline operators and a plan for continuous improvement.
Hydrogen has already been discussed as a challenge that could impact Latin American pipeline companies due to the current lack of knowledge around how it will impact the pipeline network, but there are various other existing challenges that can impact pipeline operations.
The physical geography of Latin America is highly variable and includes mountains and highlands, river basins and coastal plains.5 With this comes a range of potential geohazards that can impact pipeline integrity. For example, pipelines traveling close to mountains and highlands could be exposed to landslides, lahars and volcanic eruptions while a pipeline that passes through river basins presents a risk of riverbed scour and underground erosion to the pipeline.6
It's vital that Latin American pipeline companies not only deploy the necessary trainings for their operators, but that they deliver the training in a way that exposes operators to abnormal operating conditions specific to the region in which the pipeline operates, such as a leak or theft situation or a geohazard like those listed above.
Atmos Trainer is an operator scoring and qualification module in Atmos SIM which creates offline scenarios as a tool for training new and existing pipeline operators. Since hydraulic simulators can mimic the pipeline control system, it presents a virtual view of the pipeline during normal and abnormal operating conditions, helping pipeline operators understand the information displayed on the supervisory control and data acquisition (SCADA) system (Figure 4).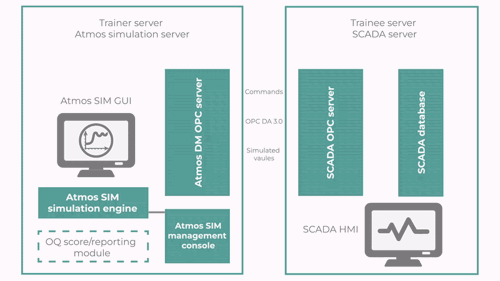 Figure 4: Atmos Trainer system architecture
For Latin American pipeline companies contending with a range of new challenges, from the transition to cleaner energy to the ongoing threat of geohazards, leaks and theft, Atmos Trainer facilitates the continuous improvement of operators in a lookalike control room environment so they can prepare for all eventualities.
4. Optimizing pipeline capacity
Gas
The New Gas Market reform programme in Brazil is set to enhance the physical flexibility of the gas system, make the delivery of gas quicker, foster competition and facilitate the integration of a higher share of intermittent renewables into the Brazilian energy system.7 The implementation of this programme requires a good understanding of the existing network capacity and fast responses to the open market requests. An accurate simulation software will make it much easier for the gas pipeline operators to manage their capacity and allocations.
Since gas is highly compressible, for a transmission network with multiple supply and delivery points it is impossible for even the most experienced pipeline operator to know what the best course of action is when an unexpected event occurs such as a power plant starting up. This is made worse when multiple events happen simultaneously. A gas optimizer that can help operators take the most efficient and environmentally friendly actions would be most beneficial.
Atmos Intelligent Optimizer (AIO) works alongside pipeline simulation software to help reliably meet gas contract requirements of pipeline customers. It reduces costs for gas pipeline operators by informing the operators of the best course of action when it comes to planned and unplanned operating events in gas transmission networks. It helps optimize pipeline capacity and allows more customers to utilize the gas networks.
Mining and slurry
Latin American mining has historically accounted for between 13% and 19% of incoming foreign direct investment,1 but this contrasts with the social and environmental issues caused by the sector.
From mineral processing, separation and extraction to the movement of ores across long distances in slurry pipelines, water is crucial to the continued operations of Latin American mining companies, and a substantial amount is used to sustain mining and slurry operations.8 For example, the amount of water used by the Chilean mining industry could supply 75% of the population with its water needs.9
Not only that, but the water required for use in Latin American mining must be desalinated water, which requires a convoluted process of removing mineral salts from water, typically through reverse osmosis.7 Latin America water use occurs alongside widespread water shortages in residential areas, so mining companies face an ethical dilemma when it comes to their water management.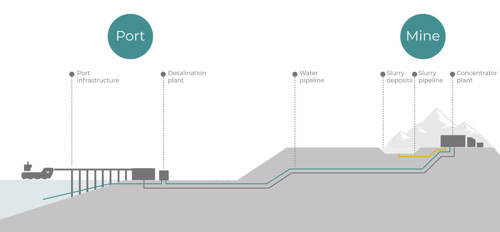 Figure 5: An example of a mining and slurry pipeline operation which uses desalinated water extracted from the sea via reverse osmosis
It's possible for mining companies to optimize their water management without compromising on the quality or quantity of the water they require.
Case Study 1: Water Conversion Corporation's optimized pumping schedule
The Water Conversion Corporation (WCC) used Atmos SIM's Optimizer module on its extensive network of pipelines that involved multiple branches, numerous pumping stations and tank farms that transported desalinated water from the sea coast and across a mountain range to the arid desert.
Deploying Atmos SIM's Optimizer enabled WCC to recommend its pumping schedules on a pipeline network where some pipeline sections are pumped while others flow gravity-fed.10
5. Managing unplanned events such as outages or supply failures
As mentioned above, there are various challenges to consider in a pipeline network operating in Latin America, such as the geohazards caused by the region's physical geography and the potential for nominations to change.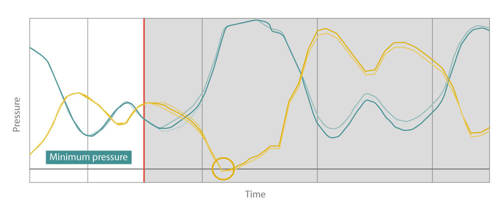 Figure 6: Trending data from a live pipeline's recent activity (light background), along with the look-ahead's prediction of a future scenario. The circled area signposts a potential minimum pressure violation that can be prevented by taking actions early
Using an online model and future supply/demand forecasts, a look-ahead application can paint a picture of what the future looks like. A lookahead simulation can take many forms, including:
Frozen look-ahead
A frozen-lookahead can run in the background of pipeline operations, predicting survivability in the event that everything in the scenario stays the same as it did in the initial state.
What-if look-ahead
A what if-look-ahead considers what would happen in the transition from current pipeline conditions to a new situation, asking questions around what the impact would be on a pipeline if an event took place, like a compressor tripping or an emergency shut-down.
Nominations look-ahead
A nominations look-ahead scenario provides forecasting of pipeline conditions on a routine level in response to shippers' nominations. It's an exact method, often with varying upcoming flow rates over time.11
Look-aheads play a crucial role in effectively anticipating risks and violations on a pipeline and prompting actions so appropriate measures can be taken to mitigate future issues. At Atmos, we continue to see Latin American pipeline companies expressing an interest in this feature of Atmos SIM Online.
Case study 2: Nova Transportadora do Sudeste (NTS)
The Nova Transportadora do Sudeste (NTS) network is made up of more than 2,000 km of pipeline and has the highest capacity of all pipelines in Brazil, with a transport contractual capacity of 158.2 million m3 of gas per day.
NTS transports natural gas through a pipeline system that crosses Brazil's most industrialized region and has links to the states of Rio de Janeiro, Minas Gerais and São Paolo.
Working with Atmos, NTS have recently opted for the full Atmos SIM Suite for its look-ahead module as well as its online and offline modeling, SCADA connectivity, gas composition tracking and more.12

The future of pipeline simulation in Latin America
Atmos SIM is in operation in over 20 countries, including many Latin American countries, and supports approximately 45,000 km of pipelines globally.
With NTS being our most recent pipeline simulation software customer, the role Atmos SIM plays in overcoming Latin American pipeline challenges evidently remains crucial and will continue to in the future.
(Article first published in Brazilian Portuguese for EPBR)